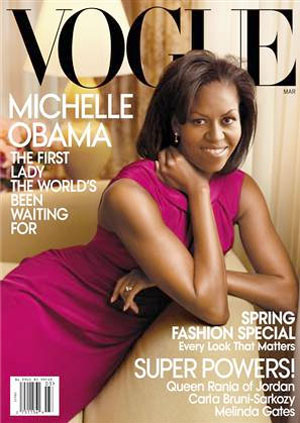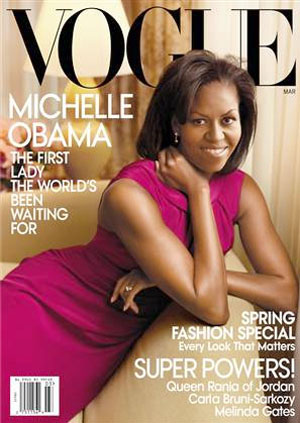 In contrast to the Pixie Geldof for Vogue Italia debate, Vogue US has chosen a very worthy woman to grace their cover.
The First Lady, Michelle Obama is the cover star of its March issue. Looking stunning in a magenta dress by Jason Wu, Mrs. Obama was shot by legendary photographer Annie Leibovitz.
Inside we're treated to an interview written by editor-at-large. Andre Leon Talley who comments:
"She doesn't need any help [choosing outfits]. She loves fashion and knows what works for her.
Mrs. Obama picked the outfits for the shoot herself, and chose a Narcisco Rodriguez black dress as one of her pieces. She's pictured in a number of 'hard at work' poses and in the interview discusses everything from the press interest in her wardrobe to trying to take her children to school.
On the First Lady, Anna Wintour remarked:
"Change was the clarion call of Barack Obama's election campaign, though I don't think any of us at Vogue initially realized that would include the difference that was going to be made by First Lady Michelle Obama's wardrobe…. It's inspiring to see our First Lady so serene and secure in her personal style.
Mrs. Obama is an inspiration to many and it's great to see her at the forefront of the media. Appearing in Vogue gives her a personal touch…a feeling of familiarity.