Last Updated on 19th October 2013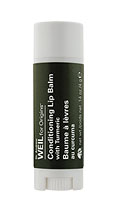 With the practically-artic conditions we are facing at the moment rendering our poor lips dry, rough, chapped and in desperate need of some T.L.C there seemed no better time to road test Dr Andrew's conditioning lip balm by 'Origins'. This particular product claimed to 'rapidly restore softness and smoothness to overly parched lips' so what's the verdict…..
After a few days applying the balm 3-4 times a day my lips had gone from dry and slightly chapped to smooth and soft, the texture of the balm itself was pleasant, being waxy rather than greasy, it lasted well on the lips once applied too.
My favourite thing about the product thought was the natural and organic gingery smell which made a really refreshing change from sickly sweet and fruity balms. When I wasn't applying it I was sniffing it!
My one criticism of this product would be that it was a little hard to apply; needing quite a lot of pressure in order to coat the lips generously. Retailing £12.23 it is also quite expensive for a lip balm but might be a good investment if you suffer badly from dry or chapped lips.
8/10: Restore your perfect pout
Available at origins.co.uk