Last Updated on 23rd February 2009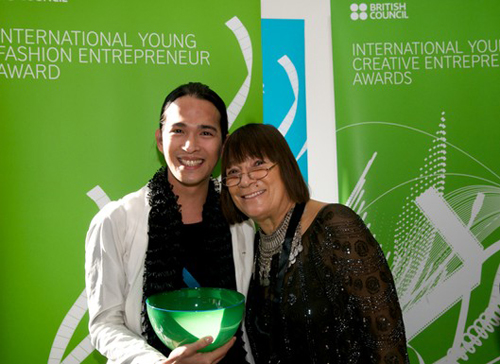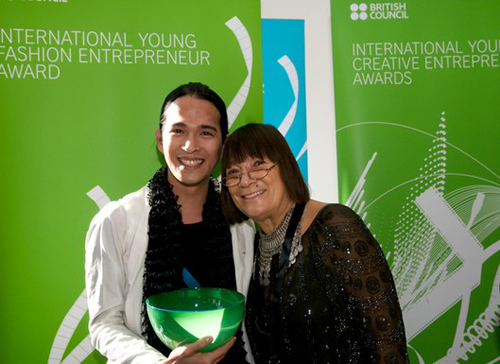 On Saturday morning I enjoyed a champagne breakfast. Well, actually I lie, I was crammed into a champagne bar early in the morning clutching orange juice (as there were no croissants thanks to the credit crunch to soak up champagne). But it was all for a good cause, it was in honour of the British Council Young Fashion Entrepreneur award.
There were two awards being handed out, one for a UK based entrepreneur and another for international. Both were announced by the legend that is Hilary Alexander.
The UK winner was Simeon Hartwig of t-shirt line Bantum. In praise of Simeon, the judges cited:
"A natural communicator Simeon brings people together with his enthusiasm and drive. He grabs opportunities with both hands and his energy propel his ideas forward. He has a strong sense of his market, although he is willing to listen and learn. A natural entrepreneur who retains a solid ethical sense."
He was clearly excited by winning, exclaiming that he "came to drink the champagne and enjoy the event, I never thought I'd win.
Simeon was selected from six finalists, who all traveled to India in order to understand the fashion industry better.
As for the international award, Indonesian Oscar Lawalata was crowned winner. His whole ethos is ethic friendly, and his work employs and offers jobs to a number of people as his textiles incorporate traditional Indonesian methods. Oscar has been awarded a cash prize and will now collaborate with the British Council on a fashion project.
These awards are incredibly prestigious, and are a great push at becoming more aware of the global fashion industry and the importance of ethical fashion. Well done Simeon and Oscar, we'll be looking out for your work.
[Image]