Last Updated on 25th February 2009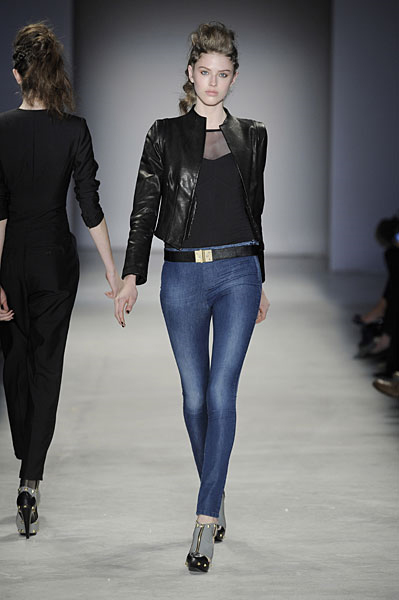 Twenty8Twelve was always going to be a wearable collection. Anyone who hoped otherwise must be sorely disappointed. But those who knew what to expect should be happy indeed. For their debut at London Fashion Week, Sienna and Savannah Miller delivered a collection of skinny jeans, tiny leather biker jackets, loose jersey tops, cropped trousers, tailored coats and a very sexy sparkly mini-dress as modelled by Jourdan Dunn. Boring? Perhaps. Actually yes. The truth is while many fashionista's including myself could snap up many of the basics from the collection, this could easily have been an offering from Topshop.
I'm still not sure why the sisters chose to show during Fashion Week. Maybe it was more of a PR strategy than anything else. Surely, it can't hurt having Matthew Williamson, Lydia Hearst, Roisin Murphy, Alexa Chung and of course Kanye West seated front row.
I have one question though. What is with the obsession with t-shirts and shoulder pads?! This is one Eighties trend I could do without.
[Images: Catwalking.com]