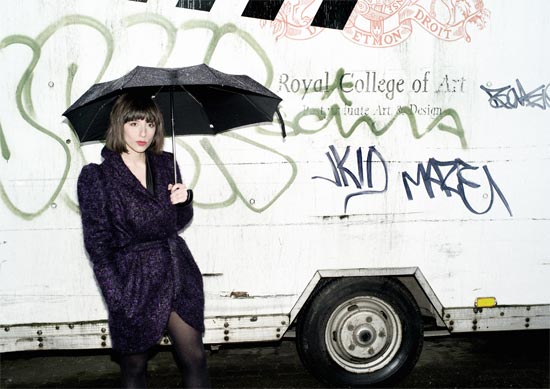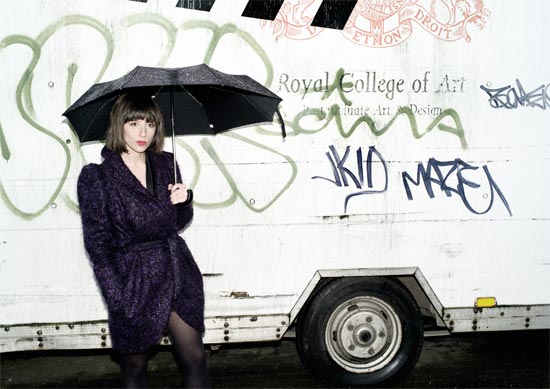 Romina Karamanea may not be a name you recognise instantly, but the former right hand woman for Robert Cary Williams has been gaining recognition among the fashion cognoscenti ever since she branched out on her own with her instantly covetable collections. Specialising in experimental design, playing with structure and texture, her approach has appealed to fans including the late Isabella Blow and Italian Vogue's Franca Sozanni.
Karamanea has been sponsored to appear at London Fashion Week's On/Off and the White shoe in Milan and now, after featuring in the 100 New Designers book by Lawrence King, it is only a matter of time before the London-based, Athens-born designer becomes the hottest ticket at Fashion Week. Here she talks exclusively to MFL about setting up her own label and the influences behind her unique design approach.
Have you always known you wanted to be a designer?
I have always wanted to be a fashion designer, for me it combines so many different disciplines like art, culture, music, film, architecture and people. It transcends language and everyone can appreciate it, so it is inclusive and also there is never a dull moment.
When did you first start making clothes?

I was 18 when I first started and I must say I have learnt a lot since then! I remember when I made my first garment, I had no formal training, I did not know how to cut or stitch, so I ended up using canvas, folding it in half, I then made a model lie on the floor so I could draw around her! I then secured the two pieces of canvas together with PVC tape and embellished it with metallic pieces from consumer packaging, i.e crisp and bottle tops. Very Blue Peter! It was quite a feat but to be honest that very first garment although technically atrocious still managed to maintain my signature of architecture and structure. I painted the canvas so it was rigid and crisp, so it really did had a very futuristic and anatomic aesthetic, even back then.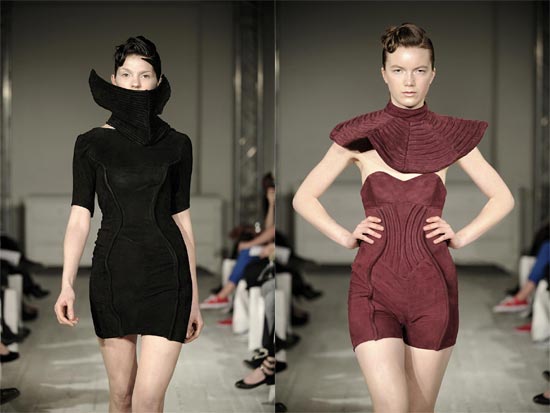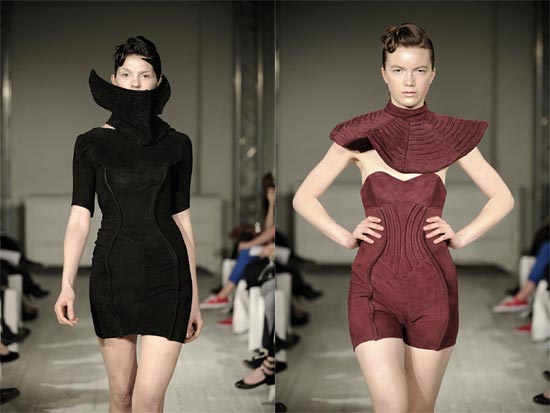 What drove you to choose the pattern-cutting course at St Martins over other fashion courses and do you think this helped set you apart from other graduates?
Throughout my life and even early childhood I have always been extremely creative, full-of-ideas and inspired by the environment and what I could see around me. Whilst at the point of deciding on my choice of MA I knew that I was very strong in terms of my ideas. I could conceptualise, illustrate and generally come-up with endless designs that were unique and commercially viable. However, I knew relatively that my technical abilities were weaker which set about my next challenge of becoming a master cutter and crafts person. In essence my 2D abilities did not need to be worked on I needed the tools to bridge the gap between them and representing such good conceptions into something 3D and tangible.
The MA pattern-cutting course was quite embryonic at the time and within the UK industry there were was a shortage of pattern cutters. My theory was that if I did not succeed in starting and maintaining my own label then I would work alongside an amazing designer that I loved and respected and translate their design ideas into the finished article. It is thanks to the sheer brilliance and talent of the tutors at St Martins that I was able to learn such valuable skills. Most inspiring was the tutor Hieron Pessers, who taught me skills that were extremely important and I am most grateful to have gained.
I would say that my enthusiasm and resolute nature set me apart as I really wanted to master the craft of pattern cutting and my focus was so strong everything else was secondary.
What was the biggest challenge in establishing yourself as a designer in your own right after working for names like Preen and Clements Ribeiro?

All of these experiences were invaluable and they helped me understand a lot about business, marketing and the challenges facing all designers, this has helped me appreciate that in this industry the best talent is one that is nurtured, improves and is established incrementally.
With Robert Cary Williams, I was his right-hand design assistant I was involved in all aspects of making a collection from its conception to its completion. I developed and created show-pieces that included, shoes, knitted capes, dresses and leather moulded accessories that are currently archived at the V & A museum. I had so much fun in the design process with Robert, collections were developed as art projects and there were many mixed media approaches. It was such a fantastic time and I had the pleasure of meeting rock icons such as Marianne Faithful and Anita Pallenberg.
At Preen I worked alongside the design team with the aim to translate the brands proposition of being modern, deconstructive whilst retaining a classic and fresh element to the product portfolio. Highlights included revisiting and re-modernising the classic Burberry Trench coat. I love merging old and new elements to redefine something familiar into something completely fresh and this experience helped me fine-tune this skill immensely.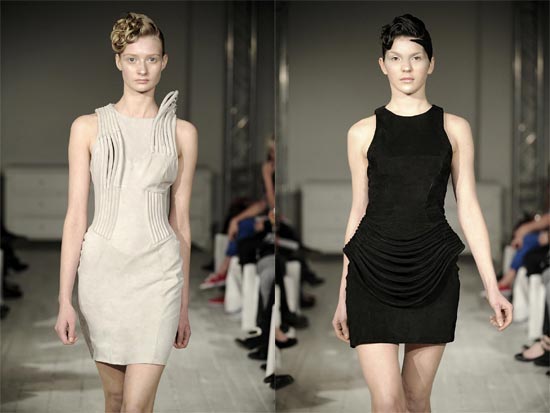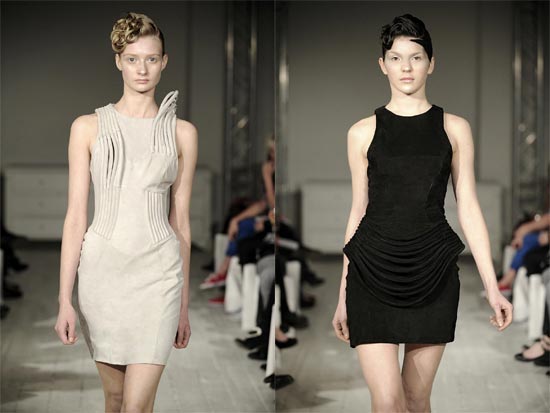 How important are shows like On/Off at London Fashion Week to someone trying to establish their own voice in the fashion world?
On|Off were a great help and I was fortunate to showcase in Milan and go to Paris and we met some good contacts. Looking for a platform is unique for everybody and I would say that it depends on objectives of the individual designer. We decided to present independently for AW09-10 as we found it to be more economical. The best organisations will give full support and a PR push and they are the ones that are normally in a designers' interest to work with.
How would you describe your aesthetic?
I would say structural, architectural with balanced proportions. I also like to adhere to values of quality and craft but conceived from a modern perspective. For AW09-10 for example we looked to modernise classic elements like corsetry and the peplum and bring them up-to-date with our own 21st century versions.
What was it like to work on a commission for the late great Isabella Blow?
She was so vivacious and she was so kind about my work. She was such a great ambassador and she was always a pioneer in terms of pushing new talent, which is a rare attribute in our time. This is definitely one of the most significant and wonderful times in my career so far and I am truly grateful and feel privileged having spent time with her.
How important has the support of others within the industry been to you?
It is very important to have support and ambassadors, you cannot expect to achieve everything on your own. We have been fortunate to have the support from iconic people, amazing institutions and fantastic friends who have pushed the brand like their own children. We are always looking for more collaborations and new frontiers though!
Who or what has been your greatest fashion influence?
Robotics/technology, costumes, menswear, couture, corsets, 18th century, anatomy, theatre, nature, insects, body modification, genre roles, cultures, street wear…to name a few.
Freddie Mercury… Queen Elizabeth 1st… Bowie….Isabella Blow… Balenciaga…Allaia….Vionnet…Mr Pearl….Chalayam…Charlotte Rampling….Tilda Swinton….Niko….Anita Pallenberg….The Clash… The Mods…. A very small edit!
What do you like to listen to while you work and how much influence does music have on your collections?
I am quite nostalgic with music so I love Joy Division, The Smiths, Nirvana, 80's pop and electronic beats to name a few.
What led to your recent collaboration with Nick Knight?
We were fortunate enough to be chosen for the much anticipated and acclaimed book 100 new designers book by Hywel Davies. The book looks at designers in the first ten years of their career. It is visually stunning and we are proud to be part of this. This led to our collaboration with Show Studio on a video day showcasing our brands aesthetic with Nick Knight.
What can we expect from forthcoming collections and collaborations?
We are very interested in collaborating with art projects, from galleries, performance artists, music and visionaries in all forms. Our mission is to develop pioneering concepts, craft, pattern techniques and presentations that push boundaries and challenge the hegemony.
Another big ambition is to consolidate with a historical fashion house with the aim to create an exciting new fusion of both old and new.
Visit RominaKaramanea.com