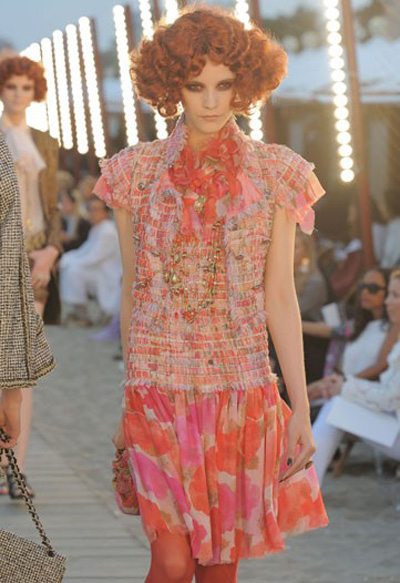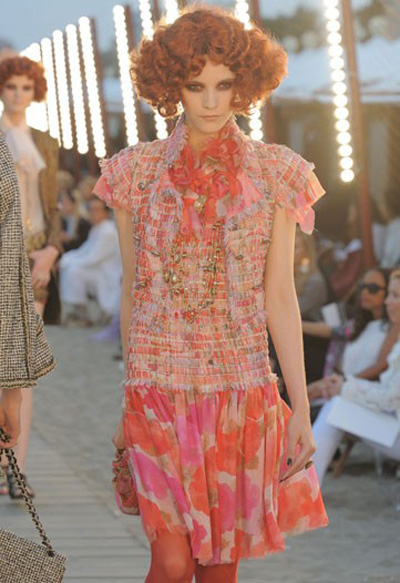 Last night Karl Lagerfeld presented the Chanel Cruise collections in the Italian city of Venice. It was of course the most beautiful of settings, and is probably the most suited city to the elegance and romance that surrounds the Chanel brand.
The catwalk took place on the boardwalk on the Lido beach, a true dream setting and again perfect for cruise. The invitation had an image of Coco sitting on the Lido beach. On the perfect setting Lagerfeld said:
"Venice has a genuine dark and mysterious side to it that fascinated me. I really like the Italian spirit and the Venetian lifestyle, and let's not forget that Coco Chanel came back to Venice for 10 years.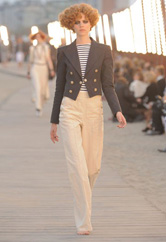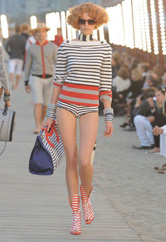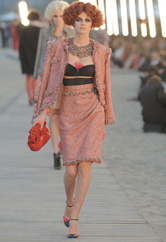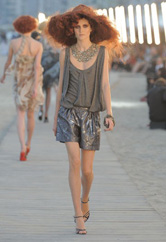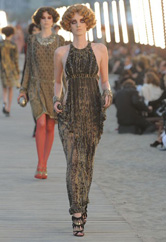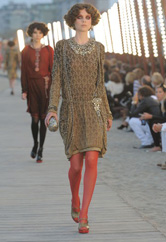 So to the collection itself. It was quite an unusual look and many styles were spotted. The models sported soft wave bobs in a 1930s style. The nautical stripes led the way with sailor pants and cropped sailor style jackets. All had a real 1930s feel which included flowing silk silhouettes. Funkier styles followed including a very Chanel cardigan with faded red trousers and stripy boots. There were of course the signature tweed jackets and skirts all in keeping with the nautical shades.
The 1930s theme continued and was most evidently seen in the chiffon phase, which saw gorgeous dropped waists and printed silks. Chanel necklaces invoked the spirit of Coco and will be picked up by the high street in no time. Peter pan collars gave structure to the fluid lines and the chic style of Chanel was evident throughout.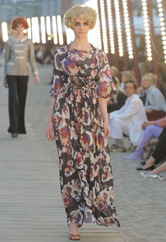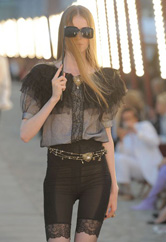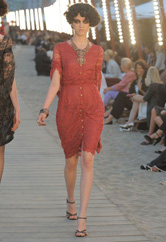 In a surprising turn an 80s bad taste look was seen in the form of lacey Spanx pant style shorts, which were teamed with a gold chain belt and sunglasses held as though a Venetian mask. The modern masks signaled the beginning of the Venetian phase where masquerade ball influences could be clearly seen. Lace, peplums, frills and medieval style cuts finished off the well-rounded range.
It is true that Lagerfeld is a design genius. And whilst I may not love every single piece I certainly love the majority. The cuts, the looks, the fabrics, all embody the epitome of elegance.
[Source]