Last Updated on 19th May 2009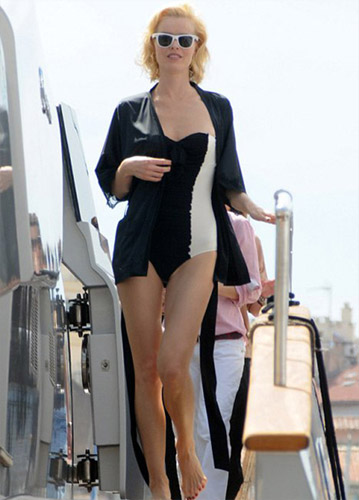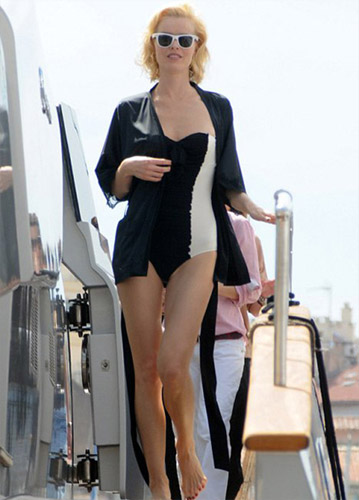 Whilst the likes of Paris Hilton & Co. are flouncing around in barely-there bikinis, Eva Herzigova was spotted looking every inch a Hollywood starlet in her one piece swimsuit.
She looked almost like a slender Marilyn Monroe and those white Ray Bans are fab. I love the one-piece look but it's only really suited to moderate temperatures, otherwise you end up with strange tan lines. It is a great suit, the monochrome panel is perfect for slimming, not that Eva needs that, and I like the ruched detailing. But as with everything it's all in the details and a pedicure is a must for any beach bound fashionista.
The supermodel took part in a glamorous photoshoot on Roberto Cavalli's yacht. Speaking to reporters Eva said:
"You don't go on the beach, you just go to the boats. You can't sunbathe on the beach in your bikini, you have to hide.
I doubt very much that Eva needs to hide, and with great swimwear taste she'll be just fine. She managed to continue her retro style even when leaving the boat, as she appeared in a stunning white dress. The demure style really suits her, and is somewhat reminiscent of Nicole Kidman.
Do you love Eva's retro look? Are you a one-piece or a two-piece fan?
[Source]