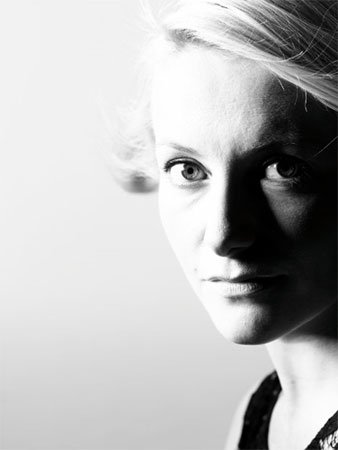 Penny Martin may not been a name you recognise instantly, but the Professor and former SHOWstudio editor has gained the recognition she deserves with her recent nomination as Communicator of the Year at the fourth annual Scottish Fashion Awards in association with Vogue.com.
After seven years at the editorial helm of Nick Knight's groundbreaking website, Penny now holds the position of Rootstein Hopkins Chair of Fashion Imagery at London College of Fashion, with a brief to lead research in fashion imagery as well as to develop relationships within the industry.
Here, Penny talks exclusively to MFL about her thoughts on fashion today and her weakness for Taggart…
Congratulations on your recent Scottish Fashion Awards nomination as Communicator of the Year, what are you thoughts on the Scottish Fashion Industry?
Thank you! I was born in Glasgow, which is a very fashion-conscious city. When I last lived there, in the early 90s, the focus was either on retro clothing , mainly 1960s style , or Italian fashion, particularly Versace. The Glaswegians love anything flash. There wasn't really a sense of fashion design being locally produced, however.
When I first began working in the industry in London, about eight years ago, I became aware just how many Scottish people were in senior jobs in the media or in influential positions in fashion education or styling. It's great to have witnessed the growing number of young designers coming out of Scotland over the past five years to back that up. It feels like we're a real force when we get together!
What's exciting about fashion today?
I think the Scots love a struggle against adversity and in that respect, the recession is probably a great time for Scottish fashion design. It's well documented that some of the most innovative British design was born out of the 1992 recession , which led to cheap rents and the establishment of lots of start-up companies. Fashion has become quite Bourgeois and complacent of late: it will be great to see how the most inventive companies deal with economic constraints and issues such as sustainability during over the next few years.
SHOWstudio is renowned for pioneering new forms of interactive and motion imagery, why does moving fashion in particular excite you?
Over the period that I worked at SHOWstudio.com (2001-8), the magazine market was quite stagnant; a few exceptions notwithstanding. There were just so many style magazines publishing the same photographs by the same photographers.
With the Internet as a new platform that offered not only the chance to publish stills, but also to feature motion, interactivity and sound, it was a great luxury to be experimenting on how best to show clothing in genuinely new ways. There are literally hundreds of projects in the SHOWstudio archive that explore these themes, but in terms of possibilities, we only covered the tip of the iceberg.
Can you tell us about your role as Rootstein Hopkins Chair of Fashion Imagery?
I work in the Research Department at the London College of Fashion, teaching and doing projects, writing and exhibitions relating to fashion and especially fashion photography. At the moment, I'm curating two exhibitions: 'When You're A Boy: men's fashion styled by Simon Foxton' at The Photographers' Gallery, London 17 July,4 October 2009 and 'SHOWstudio: Fashion Revolution' at Somerset House, London 18 September,20 December 2009. I'm also convening a study day on men and fashion photography at LCF on 25 July.
Is there anyone in particular you would like to collaborate with?
Although I've interviewed her several times, I've never worked with Inez van Lamsweerde. She is an amazing woman.
What's your earliest memory?
Opening a door that had no handle by slipping my fingers into the crack between it and the floor.
What part of your career do you treasure?
Learning things from intelligent people.
I wish that people would take more notice of… Butcher's apostrophes.
In weak moments I… Watch Taggart. And The Vice.
Photographer: Nick Knight