Last Updated on 21st July 2009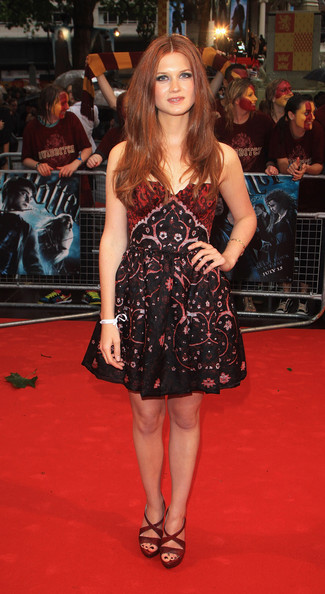 Bonnie Wright "swapped fashion tips" with Emma Watson.
Bonnie, who plays Harry Potter's love interest Ginny Weasley in the wizard movie franchise, in which Emma stars as bookish Hermione Granger, insists there is no jealousy between the female cast members, rather they all help each other look their best.
She told Britain's Grazia magazine: "We swap tips and talk about collections we've liked, but there's no rivalry – we just wear what we need to for the scene. That could mean an all-in-one waterproof bodysuit or massive waders!"
Bonnie, 18, admits she would love to follow Emma's lead by making a foray into the fashion world.

While Emma can currently be seen starring in advertising campaigns for Burberry, Bonnie would love to team up with Miu Miu or Prada.
The actress is such a fan of the two fashion houses she chose to wear a outfit from Miu Miu to the London premiere of 'Harry Potter And The Half-Blood Prince' and a piece from Prada to the one in New York.
She said: "To work with Prada or Miu Miu would be the dream! I adore Prada! Miuccia Prada never follows others – I'm so excited to see each new collection.
"I wanted two totally different looks for the premieres. Miu Miu is more of a fun, London, fashion-forward idea and for New York it was more elegant. I see the red carpet as an opportunity to show people the real me. My character is perceived as the mousy younger sister and it's nice to break away from that – but it took me such a long time to decide what to wear."