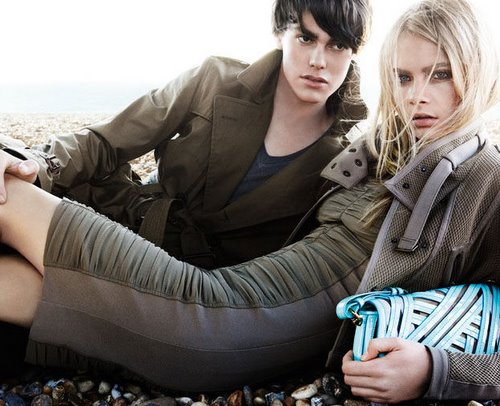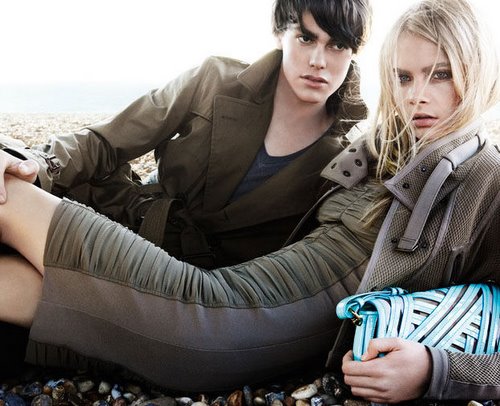 It's a well known fact that luxury British label Burberry Prorsum is no stranger to haute heritage clothing – after all, nothing screams London style like a good tailored trench – so it comes as no surprise that it's chosen the great British landscape to play backdrop in its latest campaign for SS11.
But with Emma Watson and Rosie Huntingdon-Whiteley nowhere to be seen, Burberry's swapped its fashion-forward ambassadors in favour of up-coming British models Cara Delevingne (Poppy's younger sister, who's biggest feat so far has been ASOS, FYI) and Jacob Young to kick start its summer satorials.
Shot by world renowned photographer Mario Testino, the images see the two models looking nonchalant on a rather dismal looking Brighton beach – we suspect those pebbles weren't the most pleasurable of props – and aim to give you the total Burberry experience by showcasing everything from its Prorsum, London, Brit and accessories collections together. Phew.
But it doesn't end there – the evolving summer campaign is the first of its kind for Burberry, with new faces rolling out each month from now until May, giving surely one of the most coveted platforms for young models-in-the-making.
"We wanted to create a dynamic, evolving campaign that reflects the diversity of our broad global consumer, revealing new British cast members each month, all with their own identity, embodying the different attitudes of the Burberry guy and girl," says Christopher Bailey. "We shot the campaign on Brighton beach to celebrate the great British outdoors and our history of supporting emerging talent and to bring to life the emotion behind protection from the elements.''
An interesting concept indeed. Visit Burberry.com to see the ads so far…