Last Updated on 19th October 2013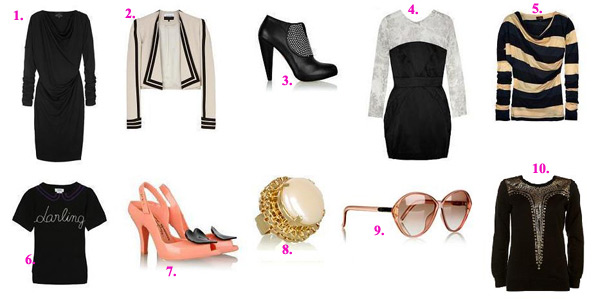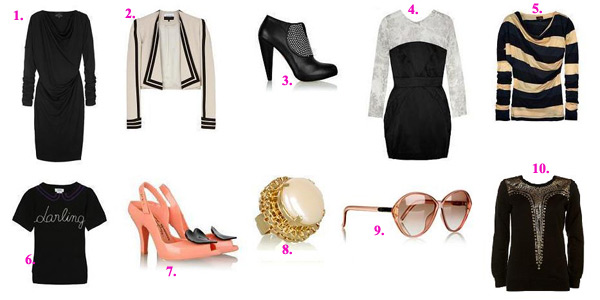 Each week, MFL will scour the virtual rails of hip high street stores and dazzling designer joints to bring you 10 hotter-than-hot items that style-savvy shoppers are just dying to get their fashion mits on. Darling dresses, quaint jackets, sexy shoes and adorable accessories , feast your eyes on this week's pick…
1 Vivienne Westwood Anglomania, black draped long sleeved dress, £169
Savvy shoppers are going mad for the Vivienne Westwood Anglomania collection, which is why this gorgeous dress is top of our list. Creating a slick silhouette with its super soft folds of fabric and ruched long sleeves, this dress offers a relaxed yet sophisticated, cool yet classic take on the staple LBD.  Available from my-wardrobe.
2 Jaeger London, wing collar cropped tux, £299
The tuxedo jacket stormed its way to the forefront of fashion last year, and it's still big news for Autumn/Winter '09. Jaeger London's off-white and black cropped tux is by far one of the hottest examples around. The sharp tailoring, sleek lines and monochrome scheme make this jacket as flattering as it is stylish. It's on my wish-list for sure.  Available from my-wardrobe.
3 Betty Jackson, studded ankle boot, £255
The press love these Betty Jackson studded ankle boots, and we can see why. The killer heel and silver stud detailing on these sexy shoe boots ooze pure rock chick glamour, and can be worn either in homage to Autumn/Winter '09's grunge trend, or to toughen up a pretty floral dress.  Available from my-wardrobe.
4 Olivia Ruben, embroidery tulip peplum dress, £200
Olivia Ruben is another press favourite, and this sure is one darling of a dress. The soft white slightly-sheer embroidered upper contrasts the black silk sweetheart peplum body of the dress, and the result is simply stunning.  Available from my-wardrobe.
5 Vivenne Westwood Anglomania, multicoloured stripe top, £189
Another piece from highly sort-after Vivienne Westwood Anglomania. The neutral hues of this beige, navy and black striped top are a welcomed alternative to navy and white stripes this season, and nods towards Autumn/Winter '09's Parisian trend. The relaxed ruched detailing and slightly sheer fabric makes this top great for layering, too.  Available from my-wardrobe.
6 Sonia by Sonia Rykiel, crew neck darling jumper, £169
Darling by design, darling by nature , the Sonia by Sonia Rykiel jumper is a true gem. With adorable puff sleeves and mock collar contrast stitching, this crew neck top is a perfect casual number, and looks adorable teamed with denim and a classic camel coat.  Available from my-wardrobe.
7 Vivienne Westwood Accessories, peach lady dragon shoes, £88
These gorgeous shoes are a stunning summer alternative to heavy black leather shoe boots, and were a best seller at my-wardrobe last week. Mixing sophistication with a twist of playfulness, these peach peep toes with black heart design add a fantastic piece of kitsch to any worthy wardrobe. Perfect as they for summer, but as Autumn draws in, team with a pair of black opaque tights.  Available from my-wardrobe.
8 Mawi, oversized ivory pearl cocktail ring, £203
Mawi is a jewellery designing genius (and a personal favourite of mine). This week we love her oversized pearl cocktail ring , the combination of bordering-on-tacky-yellow-gold and industrial-sized ivory pearl make for an ultra cool-yet-chic piece of statement jewellery that'll leave you tired of answering where you got that ring from.  Available from my-wardrobe.
9 Christian Dior Vintage, pink plastic cats eye sunglasses, £127
Summer may very well be on it's last legs, but who needs sun to wear these beauties, anyway? Christian Dior Vintage has one of the best collections of super-stylish sunglasses, and these pink cat eye sunglasses with pale brown lenses are understated and utterly chic.  Available from my-wardrobe.
10 Topshop, foil stud neckline sweat, £28
No one need ever know this sweater – bang on trend with it's foil stud embellishments , is an absolute bargain. Nodding towards A/W '09 catwalks' relaxed rock chic, wear this casual sweater with stonewashed denim and an extra helping of attitude.  Available from Topshop.