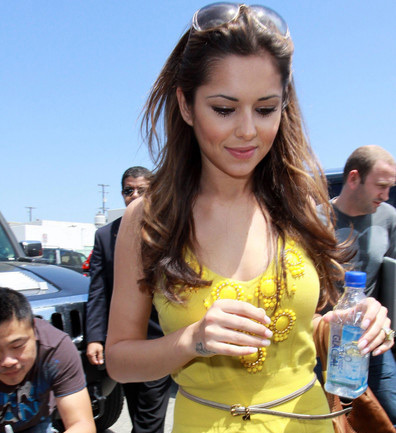 Cheryl Cole has landed a £500,000 contract with L'Oreal Paris.
The Girls Aloud beauty has signed a deal to front a major TV, billboard and magazine campaign for the fashion house this autumn, following in the footsteps Beyonce Knowles and Jennifer Aniston.
A source said: "Cheryl is a beautiful, sassy girl who is just perfect for this particular job. She is everything that young women aspire to.
"She has amazing skin and hair and had everything L'Oreal was looking for."
Cheryl recently dyed her hair plum but has now reverted to brunette, and the deal means she will no longer be able to experiment with her locks.
A source told Britain's Daily Mirror newspaper: "Cheryl dyed her hair for a magazine fashion shoot but went back to her original brunette within a couple of days."
Last week, her red style was blasted by celebrity stylist Lee Stafford, who said it "smacks of a home dye job".
He added: "Revamping your style is a great way of getting out a style rut, which Cheryl was dangerously close to. But this shade is ill-advised. The colour is wishy-washy and looks cheap."
Colour expert Jo Hansford agreed: "Cheryl's hair looks like a DIY colour gone wrong."
The 26-year-old star unveiled her fiery new tresses earlier this month, claiming she was "desperate" for a change.
She said at the time: "I've always loved red hair and it's the only colour I actually haven't been. I had one of those moments where I really wanted change. I'm glad I did it, I really like it."
Meanwhile, Cheryl's Girls Aloud bandmate Kimberley Walsh is to front an advertising campaign for British clothes store New Look.
The brunette star follows Alexa Chung, Lily Allen and Peaches Geldof, who have previously starred in campaigns for the chain.
A New Look spokesperson said: "We always feature women who our customers tell us they like and relate to. Lily Allen was one of the girls and the way Alexa Chung styles herself goes down really well with our customers. And Kimberley Walsh is the girl our customer most wants to be."