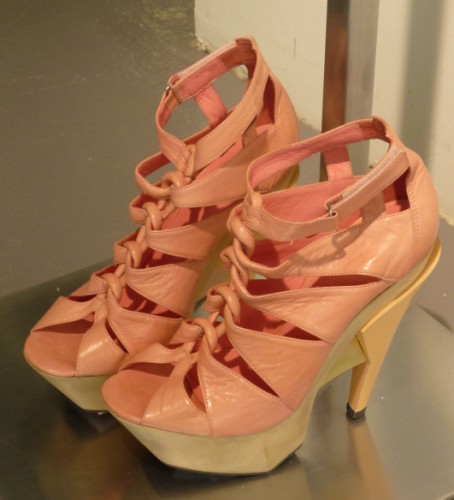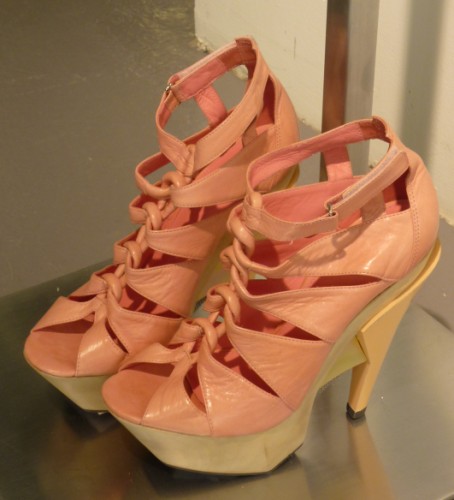 As one of the UK's biggest retailers, the Arcadia spring 2010 press day was bound to be a busy affair. Victoria House was packed with fashion insiders including Susie Lau of Style Bubble and the Arcadia man himself, Sir Philip Green, all sneaking a peek at the latest offerings from Topshop, Miss Selfridge, Dorothy Perkins, Wallis, Evans, Topman and Burton. We popped down for a preview and a couple of tiny bowls of sausage and mash. Delish.
Topshop:
While the other Arcadia stores had to share floorspace, Topshop – undoubtedly the shining star of the business – was given a more exclusive feel, with a much larger, separate room for their spring 2010 collections. Topshop shone in the accessories department and we were particularly drawn to some romantic, suede and lace ankle booties, which are perfect for tricky transeasonal dressing. Neutral was key for Topshop, adding detail with buckles, tassels and in one worrying case, espadrille wedges. They've also done a pretty good version of the Ray Ban Clubmaster…
Topshop have gone down the predictable route of distressed denim once again – but, they do execute well. This season sees rolled-up, lightwashed jeans teamed with striped crops as well as loose denim jackets having been given the late eighties, early nineties 'cool' with their badged effect. With denim being a popular fabric choice of spring 2008, Topshop have sensed the need to update current trends in this time of financial difficulty.
Spring 2010 at Topshop is definitely more of a casual affair. Cutesy ladybird prints and florals appeared briefly in tailored shorts and t-shirts, as did comfy, jersey basics in that straight-out-of-Fame look. The stand out pieces however, were the more elegant items in neutral lace and unusual, digital print. That said we love the laid-back layering of jersey and mesh in this ensemble that reminds us a tad of Helmut Lang…