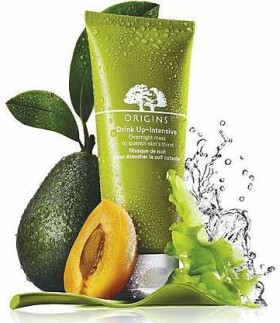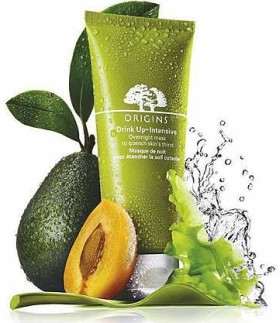 I've been a fan of all-natural skin care brand Origins for quite a while. I like their non-nonsense approach. Products are simple, they're useful, they don't use harmful chemicals, and generally, they work.
So when news of new product Drink Up Intensive (£20.00), an overnight mask designed to 'quench skin's thirst', reached me, I couldn't wait to spread my face with it, lie-back and let it do it's work. With skin prone to dryness and the on-set of winter not doing it any favours, this is exactly the kind of product I need.
The claim: Drink Up Intensive is designed to combat the loss of moisture in the skin caused by cold weather, UV rays and office air conditioning.
According to Dr Lieve Declercq, who has the exceptionally long job title of Origins global spokesperson of plant physiology and molecular biology: "Studies have shown skin is most permeable during the night, creating the optimal time to apply high-performance products that promote healthy skin function.
There's apricot kernel oil, plant glycerine and sodium hyaluronate to moisturise skin. Orange peel wax, avocado oil and mango butters are packed in too. And Japanese seaweed, wheat bran and olive extract seal skin overnight so it can retain moisture during the day.
Application: I'm struggling to come up with the right words to describe how incredible this felt on application. Cooling. Smooth. Fruity. Zesty. Light. Soothing. All of the above basically. Indeed, I don't think it would be an exaggeration to say it felt like silk against the skin.
The instructions are to apply it all over the face before bed and then dab off the excess with a tissue. However I found it felt slightly sticky, even after having left it for a good half hour to soak in. Don't go posing for any pictures, or indeed stand under any halogen lights with this on your skin either. The light bouncing off your shiny forehead may temporarily blind someone.
The results: Origins promises results after just one use. In fact it boasts that during a two week study, 90 per cent said their skin felt replenished, and 92 per cent said their skin was smoothed after just one use.
After one use I did notice that my problem area, my forehead, did appear and feel slightly smoother, although the effect on the rest of my skin was less tangible. But give it chance, just one use is quite an ask.
After a couple of uses my skin did look visibly different, but a splash of moisturiser in the morning was still required. The only thing I didn't like about the product was that, even after having been on the face overnight, it left my skin feeling just a tiny bit greasy.
However, as is the idea of the product, when stepping out into a day so cold I wouldn't be surprised to see penguins on the pond in the park rather than ducks, I need all the moisture I can get.
For more information or stockists, visit the Origins website.