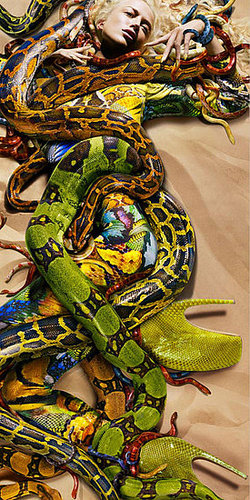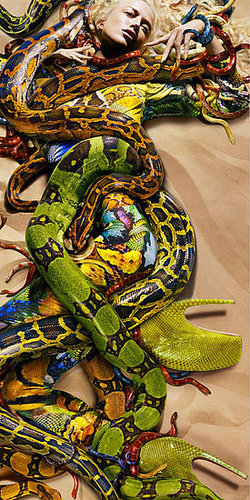 Did sssomeone sssay ssspring? Alright, enough of the snake gags, but seriously, Alexander McQueen's spring campaign is a slithering, squirming, up-scale sizzler.
Piled under those pythons, in case you can't tell, is poor Raquel Zimmermann, who was wrapped in over 30 snakes for the spring campaign shot by Nick Knight.
SS10, it would seem, has inspired an air of laziness. The savvy spies at NY Mag have noticed the ability , or lack, thereof , to stand on ones feet this season: we saw it first in Lara Stone for Louis Vuitton, closely followed by Georgia May Jagger for Versace, but at least Raquel's got good reason to lay down in those 12-inch hooves.
Yep, those very armadillos that forced models to refuse the McQueen runway are the stars of this campaign, natch, and if you look very closely, you can just about make them out through the sea of shimmering scales.
We think our Brazilian model looks a little tortured, but hey, we would be too if we were buried under a bundle of reptiles.
[Images]