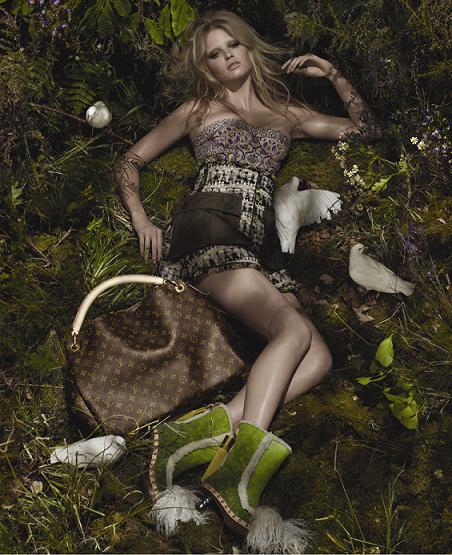 Remember us announcing that Lara Stone was taking over from Madonna as the face of Louis Vuitton? Well we've got the snaps and the low-down from Marc Jacobs on the luxury label's S/S10 campaign.
"Because the collection loosely took its cues from the idea of the New Age traveller, we decided to create a green, outdoorsy set that would evoke a spirit of peace and love. To model the clothes, we wanted a modern, iconic, sexy beauty… It had to be Lara Stone, said Marc Jacobs, artistic director of Louis Vuitton, adding that he was delighted to be working with Steven Meisel again following the super-successful collaboration with Madonna for previous campaigns.
Meisel, famed fashion photographer and friend of Madonna, shot the Material Girl for the past two seasons in her campaigns for the luxury label, and is now responsible for the snaps of Lara Stone in the much-anticipated S/S10 ads.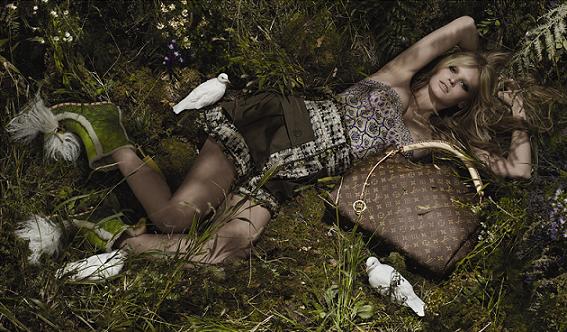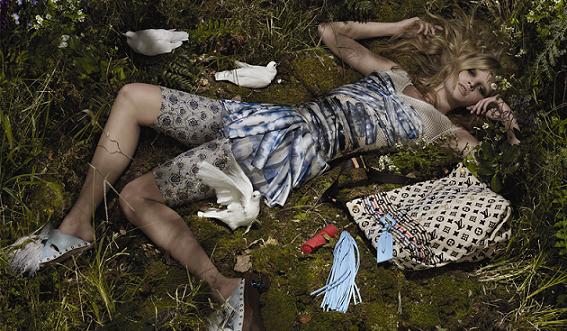 Surrounded by white doves, model du jour Lara Stone appears in the series of spiritual spring shots positioned in Bardot-like poses on a bed of moss and ferns. And ever-ethereal, the fresh background provides the perfect contrast to Vuitton's vivid colours in the S/S10 collection.
"It was a wonderful shoot," continued Marc. "Doves were flying, the atmosphere was sexy and magical, and the result is a set of images that are desirable, colorful, whimsical and, of course, luxurious."
Not that we were ever in any doubt, but Ms. Stone looks beyond beautiful as she brings her effortless edge to the French fashion house (though we regret the tasselled clogs making their wicked way into view).