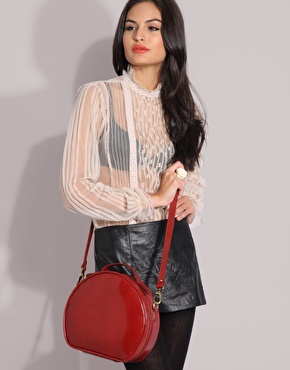 Do you remember that vanity case that you would take everywhere with you as a child? Packed with your treasured strawberry flavoured lipstick, various collected items and possibly a Barbie with no hair? Well, while your handbag items may have changed to a M.A.C compact, your blackberry and your credit cards, if you're anything like us the desire to keep everything in a shiny vanity case still lingers.
If you're fed up of lugging your oversized shopper around town and fancy something a little neater then look no further – this bright red leather vanity style bag from ASOS is perfect handbag material that will leave your hands free to clutch all the more shopping bags. Plus it will hold all your essentials whilst keeping them safe, as its structured shape will protect your valuables from fellow pushy shoppers.
Its shiny finish and cute hand strap gives it a retro feel and will add a pop of colour to your most basic of outfits. Reduced from £55 to just £30 it's a purchase that's worth making and it will give you that instant feel-good-factor with its air of nostalgia. Click here to buy now!