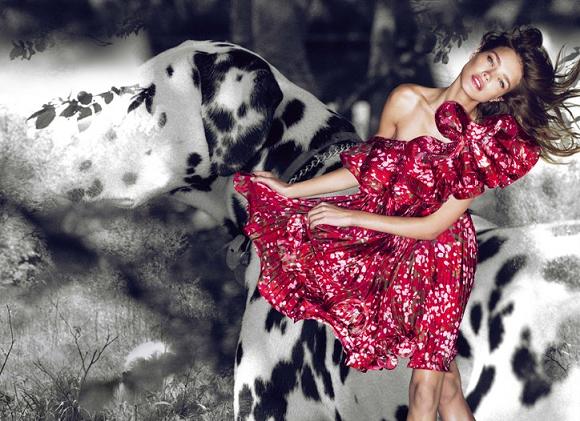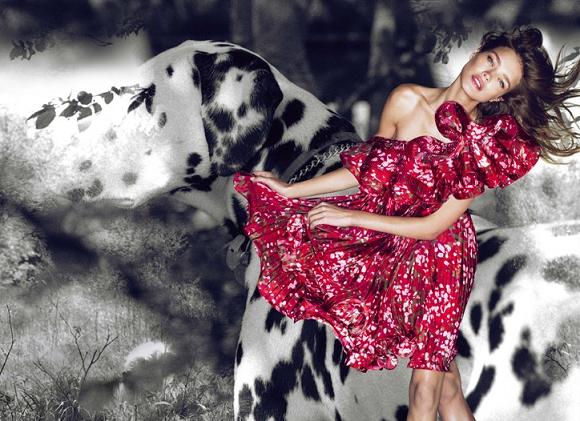 You thought the star of Stella McCartney's spring campaign was supermodel Natalia Vodianova? Think again. There's an old friend taking centre stage, and it's not even human.
The Russian supermodel may well be posing prettily in front of Alas and Piggot's camera for the campaign, but Lucky, the McCartney's pet dalmation when the designer was growing up, dominates the background with his grainy black and white spots.
"I love the way it's very graphic and soft at the same time, due to its double exposure, Stella said of the picture, which was a photo taken by her mother, the late Linda McCartney. "I have known Marcus since I was a teenager and Mert from when they first met, but we never had the chance to work together. I wanted to capture their high-glamour approach over my mum's low-maintenance way of working.
And what are we to make of the ads? "Fashion meets reportage, mixing color, and black-and-white. A family animal with an outside atmosphere meets studio lights, camera, action! Opposites meeting in one image, illustrating the masculine and feminine sides of the Stella McCartney brand, she told WWD.
Well there you have it, right from the horse's mouth. Or should that be dog's, as it were?
[Images]