Last Updated on 18th March 2010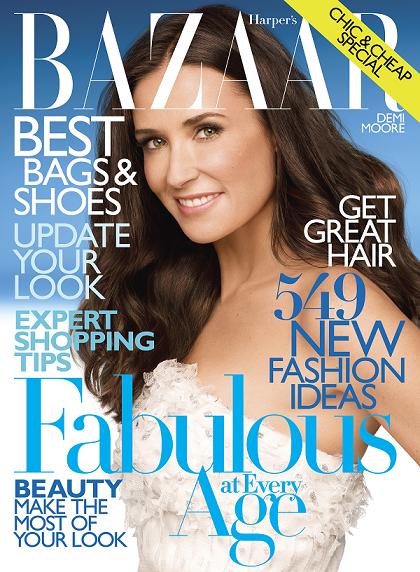 A few months ago, Demi Moore found herself at the height of controversy when she appeared on the cover of W magazine with an unsually jolted hip. Now, as she graces the cover of another magazine, she's settling the speculation once and for all.
For those that need reminding, when Demi featured in the fashion glossy's December's issue, her hip looked a little strange. In fact, rumours quickly spread that it wasn't her hip at all but that of Polish model Anja Rubik. Shock horror indeed.
"Okay, that is literally my shape," Demi says in the latest issue of Harper's Bazaar for which, coincidently, she is also the cover star.
What bothered her, however, "wasn't that people were saying it was retouched, it was that they were saying my hip was so badly botched because a hunk of it was taken out. I called the photographers, and they said, 'We did not touch anything on your hip, your thigh, or your waist. It was the position.' Actually, somebody sent me an image I retweeted on Twitter. It was this beautiful marble statue, and the body position was exactly the same as what I was doing. This person had outlined how the hip goes in and the leg goes out."
We'll take it that's settled, then.
Read the full interview, in which Ms. Moore discusses twitter and a certain Mr. Kutcher, among other things, in April's Harper's Bazzar, out March 30th.