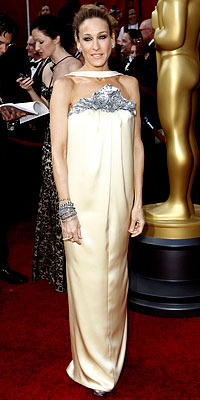 Last night's 82nd Academy Awards were full of memorable moments. Not only did The Hurt Locker pip the box-office smash Avatar to the post on more than one occasion, but Neil Patrick Harris (a.k.a. Doogie Howser) opened the event with a camp and surreal musical display of sequins and feathers and Ben Stiller dressed up as a Na'vi. Yep, he had the tail and everything.
But before the ceremony began, we took a look at the red carpet to have a nosey at the stars to see what they were saying about their films… and more importantly, who dressed them. Here's a few of the lovely ladies and the gowns they chose for 2010's Oscars.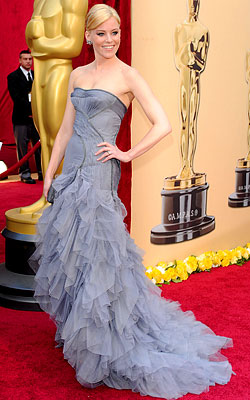 Elizabeth Banks – Versace
One of the best dressed of the night was Elizabeth banks who had previously hosted Oscar's Scientific and Technical Awards the night before. Dressed in a risky grey Versace gown, Banks opted for a thin hairband with her up 'do and peach-coloured eye shadow.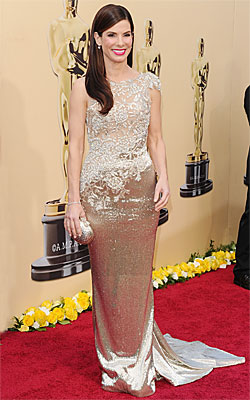 Sandra Bullock – Marchesa
Best Actress winner, Sandra Bullock looked every inch the Hollywood star in this glamourous number from Marchesa. It's a bit too metallic for our liking but the hair and makeup round off the classic look perfectly.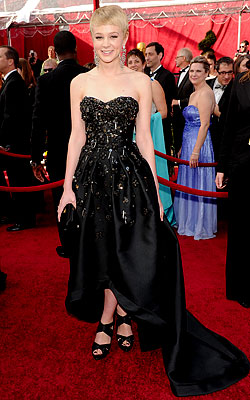 Carey Mulligan – Prada
Brit newcomer Carey Mulligan has had some great red carpet moments recently and this one might just be her best yet. The black number from Prada features a flattering sweetheart neckline with a box pleat skirt that could have so easily ended in disaster. We couldn't see closely enough but apparently, the dress is embellished with Swarovski flowers and knife, fork and scissor charms!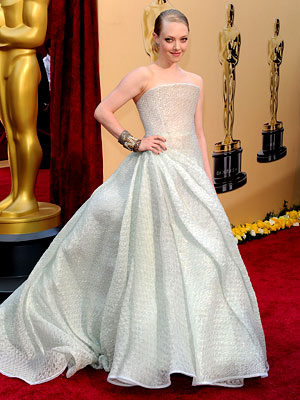 Amanda Seyfried – Armani Prive
We can't help but think this Armani Prive drowned Amanda Seyfried. It also probably didn't help that J Lo was wearing a fairly similar gown from the same designer… only it was much better.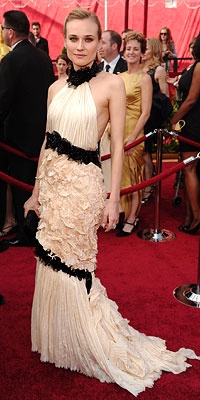 Diane Kruger – Chanel
Always topping best dressed lists, Diane Kruger rarely gets it wrong. This Chanel gown created from embroidered chiffon and black lace however, just doesn't do it for us. We blame the dodgy middle section, which draws the eye and makes the otherwise elegant look, fussy.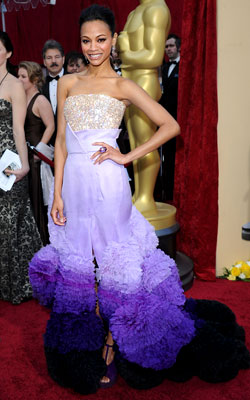 Zoe Saldana – Givenchy
There's so much going on with this Givenchy number that we're not quite sure where to look: the glistening bodice, the paper bag waist or those purple pom poms decending down the train? We love the graduation in colour but there's not much else we can say about this… apart from perhaps the fact that Zoe Saldana still manages to look gorgeous. Us, jealous? Never.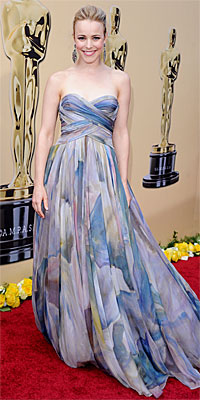 Rachel McAdams – Elie Saab
The star of The Time Traveler's Wife and The Notebook looked stunning in this Elie Saab gown which turned out to be one of our favourites of the night. The full skirt and whimsical pattern was perfectly complemented with McAdam's simple up 'do and 'barely-there' make up.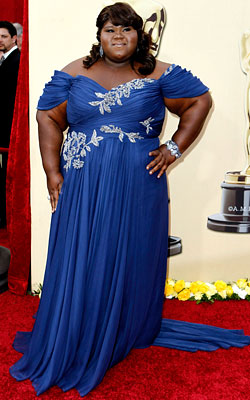 Gabourey Sidibe – Marchesa
Gabourey Sidibe knew exactly how good she looked in this embroidered Marchesa gown when she told Ryan Seacrest, referring to her dress: 'if fashion is porn, then this is the money shot.' This off the shoulder number is definitely her best look to date.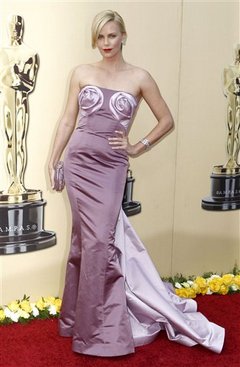 Charlize Theron – Christian Dior Couture
A note to Charlize Theron: Nobody was looking at your face after they caught sight of this dress. The satin, Christian Dior Couture number features a bizarre, danish pastry-style detail on the chest that just didn't belong on the red carpet.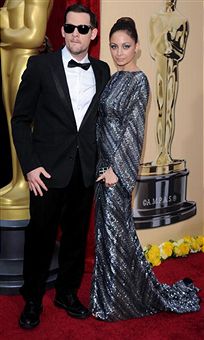 Nicole Ritchie – Reem Acra
We know what you're thinking: what was Nicole Ritchie doing at the Oscars? It turns out that Joel Madden was actually DJing at the event and The House of Harlow and Winter Kate designer was of course accompanying her hubby. We fell in love with her Reem Acra gown complete with 70s style, flared sleeves. It's not your typical Oscar dress but that just makes us like it even more.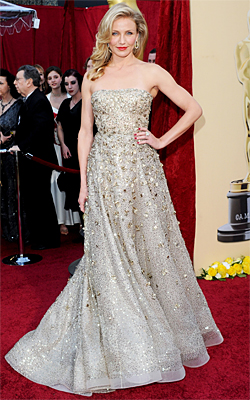 Cameron Diaz – Oscar de la Renta
One of the last to rock up for the evening, Cameron Diaz looked like a red carpet princess in Oscar de la Renta and bold, red lips.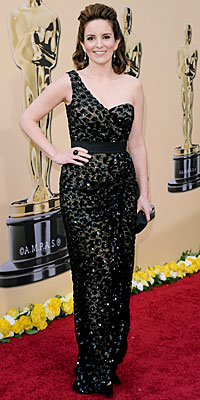 Tina Fey – Michael Kors
This Michael Kors gown was definitely one of Tina Fey's better red carpet moves. The asymmetric look is extremely flattering and the dress fits like a dream. We're just not so sure on that hair.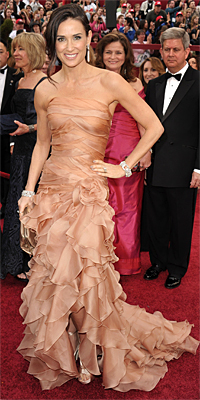 Demi Moore – Atelier Versace
It might be almost the same colour as her Californian tan but Demi Moore's Gown from Atelier Versace is a magnificent feast of frills. Moore's look was finished off with a clutch from Salvatore Ferragamo.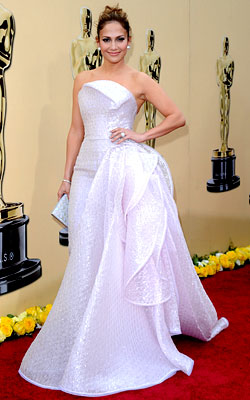 Jennifer Lopez – Armani Prive
We heard rumours the J Lo had reserved a designer's entire collection in order to avoid any red carpet double-ups. She can't have been happy then when she saw Amanda Seyfried's attire for the evening! Lopez needn't have worried though; her Armani Prive was elegant and dramatic, featuring a train lined with Swarovski Crystals. 'Jenny from the Block' still has it.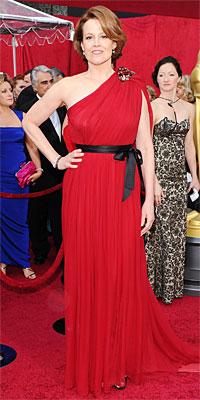 Sigourney Weaver – Lanvin
Looking stunning at 60, Avatar star Sigourney Weaver opted for a one-shouldered Lanvin gown in deep red. Does she ever get it wrong?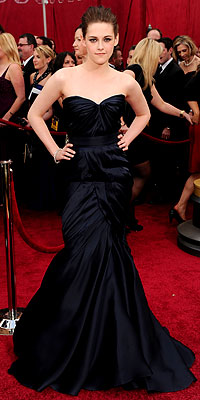 Kristen Stewart – Monique Lhuillier
She was predictably and charmingly awkward on stage but Kristen Stewart shone on the red carpet in this midnight blue, silk organza gown from Monique Lhuillier. The sophisticated look was finished with a simple, not-too-sleek 'do, in keeping with Stewart's laid-back attitude.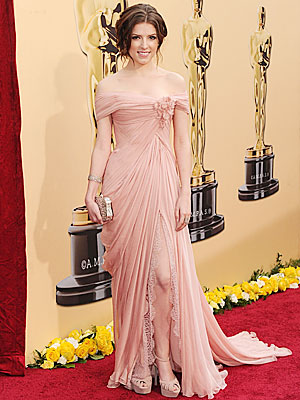 Anna Kendrick – Elie Saab
Anna Kendrick was pretty in pink last night, wearing Elie Saab Haute Couture. The Up in the Air star teamed the delicate, draped gown with a Judith Leiber clutch.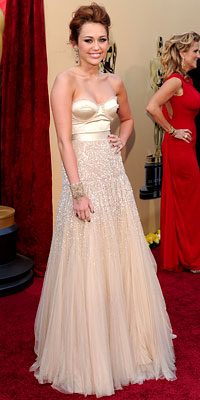 Miley Cyrus – Jenny Packham
Billy Ray's daughter had apparently been practicing her Marilyn Monroe poses in the mirror for last night's event and it seems that she had that shoulder shrugging look down. We love the 'underwear as outerwear' and nude trends of spring 2010 emerging from this Jenny Packham dress but we can't help feeling that it's a little too sexy for Hannah Montana.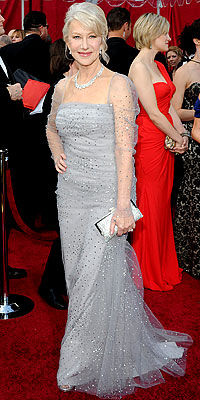 Helen Mirren – Badgley Mishka
Helen Mirren always looks demure and sophisticated on the red carpet and last night was no exception. Her Badgley Mishka dress was adorned with glittering gems and striking Chopard jewellery completed the ensemble.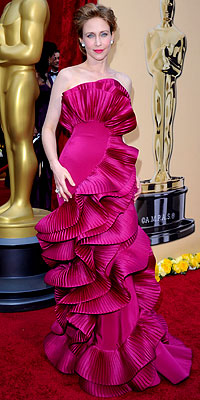 Vera Farmiga – Marchesa
Vera Farmiga's Marchesa gown will be one of those remembered in Oscar red carpet moments for years to come. This dress could have been too much but we're loving the hair, make up and simple jewellery, leaving the focus on this beautiful, ruffled piece.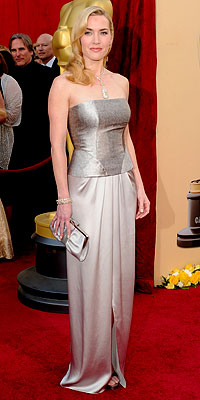 Kate Winslet – Yves Saint Laurent
Is it just us or is Kate Winslet getting tinier and tinier? The winner of last year's Best Actress award wore a stunningly simple YSL dress and a matching clutch and shoes to the 2010 event. The real star of the outfit however, was the Tiffany & Co. yellow diamond necklace, worth a reported $2.5 million. Yikes.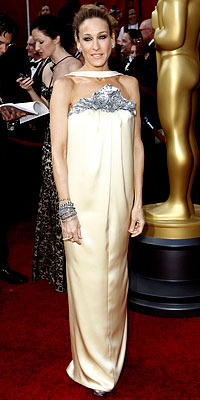 Sarah Jessica Parker – Chanel Couture
Another one of our top outfits came from Sex and the City style icon, Sarah Jessica Parker who presented an award with designer, Tom Ford. The Chanel Couture gown hung beautifully and features silver detailing across the chest which is repeated across the back.