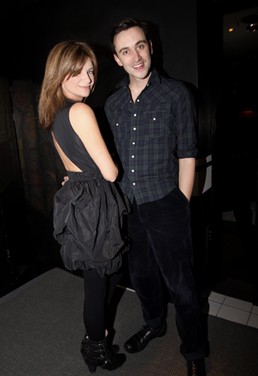 When we mentioned last week that his name would be one to watch, we weren't kidding. Revamping French label Carven into a chic and affordable line, Guillaume Henry's designs have been snapped up by Net-a-Porter founder Natalie Massenet – but what does the designer make of all the buzz?
"Imagine the pressure!?" he says of Natalie hailing him a 'young Yves Saint Laurent'. "I just wanted to die! Natalie is really amazing, she has been my angel. I really felt the air was full of magic as soon as I met her, she made me believe nothing is impossible. She's so strong and so cool – and somehow she manages to live 36 hours in 24. She's definitely a Carven woman."
And the Carven woman, if you're wondering, is any one of us.
"I wanted to create a look that was less evening, less cocktail, more girl next door; that's the girl I know," Henry told Vogue UK. "Some designers create and imagine a woman, a customer, and that's great – but it's not for me. I design for the owner's wife, my mother, my friends; someone going to work, with children, going out at night – women I know. These pieces can be worn all day, from early morning to late evening. I have tried to create pieces with real honesty, pieces that focus on a woman's needs."
Though the young designer prepares to take things slowly at Carven – and keep things affordable – we suggest you act quickly to get one of his dresses.