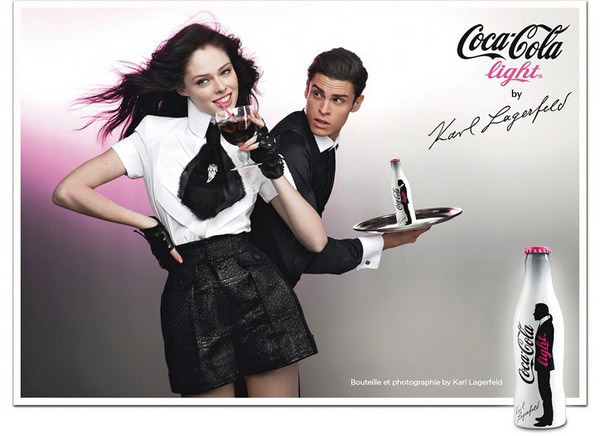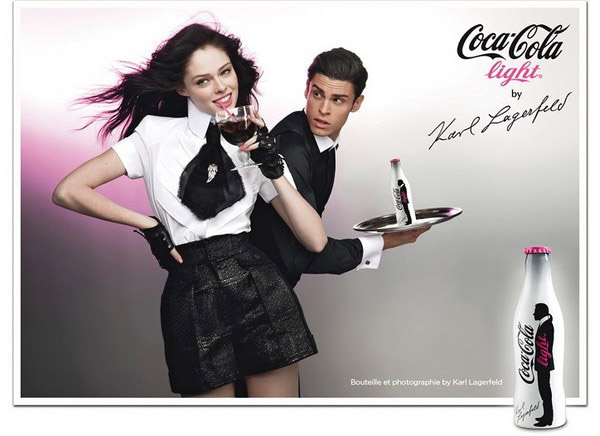 Coca-Cola light has been the favourite tipple of Karl Lagerfeld's since way back in 2001, where he famously credited his large weight loss to the fizzy pop. Fast forward nine or so years, and he's designed his own limited edition bottle for the brand.
Hardly surprisingly, really, seeing as though nothing gets past the fashionable force – not even a 250,000 Euro safe (remember that?).
Perfectly combed coif in place, Karl's slick suited-and-booted silhouette will be strewn across a limited number of Coca-Cola Light bottles, alongside his sought-after signature, which will be sold at high end Parisian boutiques Colette and Galeries Lafayette, Handbag.com reveals.
If you want to get your hands on the collectable coke, though, be prepared to pay 47 Euros – for that you'll get a boxed bottle and matching bottle opener. He's such a spoiler.
Naturally, there's an ad campaign to promote the collaboration too, which features Coco Rocha and Baptiste Giacobini, who plays a Coca-Cola butler much like the one Karl's been known to hire.
[Images]