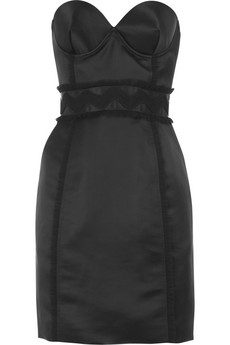 If – like us -you're still raging, having not even been able to get onto the site for The Outnet's first birthday £1 sale this morning, then you'll fill cheated, dissatisfied and in need of a little fashion splurge.
Despite our annoyance with the servers, the multitude of other style-hungry shoppers, or whatever else might be to blame for our lack of sale joy, we really can't deny that The Outnet still has a load of fantastic deals on offer.
It looks likely that there will soon come a time when Luella goods will no longer be around and we're hoping to snap up as many as we can until that time comes. This corset dress is the perfect LBD for spring 2010 eveningwear as it is not only chic and sophisticated, but nods to the underwear as outerwear trend whilst still capturing that girly, Luella style with it's sweetheart neckline and tulle trim.
£587 £234.80 from The Outnet.