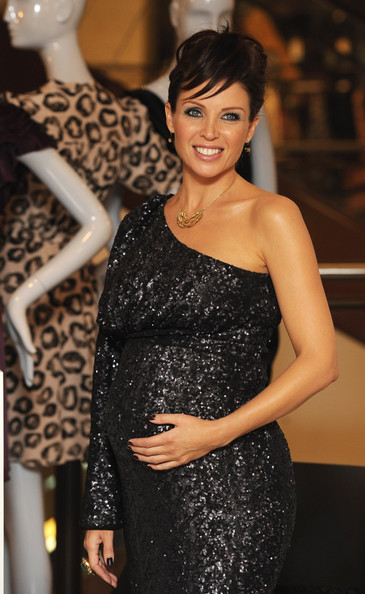 She may be just three months away from giving birth to her first baby, but Dannii Minogue's barely put her feet up for a moment – and yesterday was no different. Last night she headed to London's Selfridges to launch her clothing line much to the celebration of her fashion fans.
Dannii's been working on Project D with close friend and co-designer Tabitha Somerset-Webb for the past year, but let's hope Tabs isn't the jealous type because last night, all eyes were on Ms. Minogue.
Wearing an asymmetric floorlength sequin gown from the collection – which she squeezed into, baby bump and all – the X Factor judge looked ever the blossoming mum-to-be.
"Being pregnant has completely opened my mind to having to really try different shapes and things I haven't worn before," Dannii told the Daily Mail. "You've got to dress cleverly around it but I've managed to get into my dresses without any alterations."
The debut line of dresses features styles from day to cocktail and reflects Dannii's flair for fashion – something she hopes to bring to every woman's wardrobe.
"Fashion has been a passion of mine since I can remember and I hope that every woman who slips on a Project D dress will feel glamorous yet effortless," she said. "Our philosophy is to make feeling confident with your wardrobe easy. We will do the hard work and get the details on the dresses right, so all you have to do is enjoy them."
And you can do exactly that, so long as you've got between £210 and £485 spare at the end of June, when Project D will be available at Selfridges stores and online, as well as shopping sites ASOS and my-wardrobe.