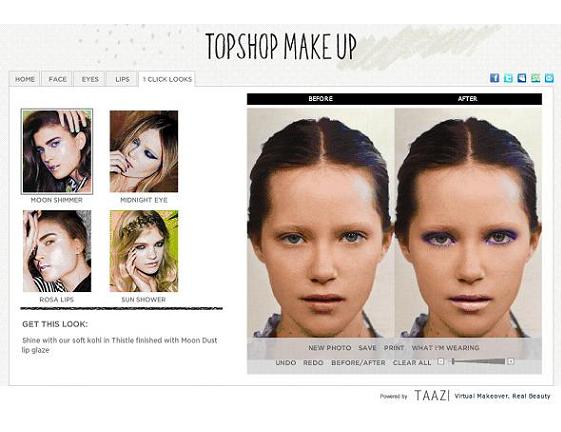 Since it's launch last week, Topshop's make-up line has been the talk of fashion town – who's tried what? What's good? What's bad? What do we need? Well, we're yet to answer any of those questions ourselves just yet, but thanks to the launch of its genius online makeover tool, we can get a pretty good idea of what's to like.
You see, Topshop have teamed up with Taaz (some genius technology company), to launch the very latest in digital makeovers, meaning those that are yet to try the products first hand can get a feel for what they like before they buy. Pretty good idea, non?
"We wanted our customers to be able to interact and play with Topshop Make Up online," says Kate Walmsley, Head of eCommerce at Topshop. "The quality of the TAAZ.com virtual makeover tool and the ability to customise the experience to reflect the Topshop brand made them the perfect partner. It's so much fun; it had all the girls at Topshop HQ instantly addicted!"
Whether you choose to upload your own picture or use one of the model's faces already provided (like us, far prettier canvases to work with), you can pick, choose and play to your hearts content with the new makeup line to decide which products get prime position at the top of your wishlist.
Go have a pop over at www.topshop.com/makeup, we dare you not to get addicted. No prizes for guessing what we've been doing this weekend.