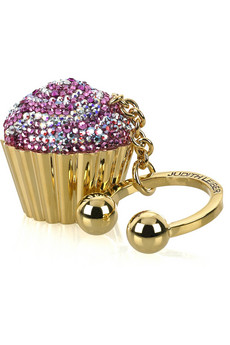 We'd love to say that we could afford to splash out on a Judith Leiber clutch whenever we fancied a novelty, crystal-embellished treat, but the reality is, that's probably never going to happen. In fact, we're still trying to work out how Lily – the four-year-old – wound up with her very own Judith Leiber cupcake purse, which she carried for Carrie's wedding in the first Sex and the City movie.
But never mind that, because we've just stumbled upon a little sparkly something from the luxury accessories brand that won't dent our credit card so much: the Judith Leiber fine-crystal embellished keyfob.
We're not usually ones for accessorising our keys with designer gear but this little cupcake is too adorable to ignore. No, it's not going to outshine little Lily's, but it'll tie us over until we manage to scrape enough together for something as bling as the Zebra clutch.
£225 / $295 from Net-a-Porter.