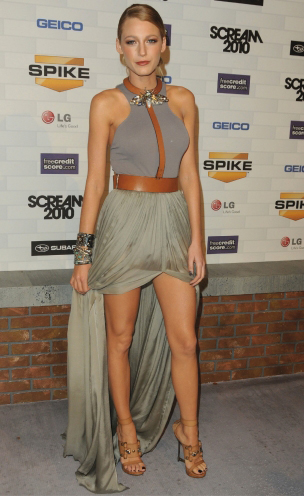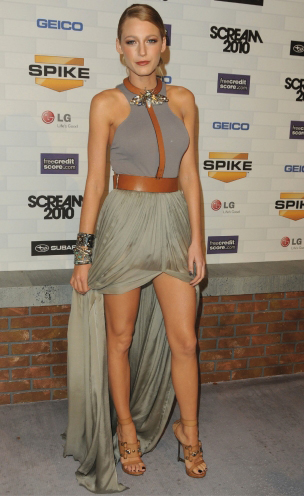 The 2010 Spike TV Scream Awards was held at the Greek Theatre in Los Angeles over the weekend, and with celebs aplenty, the red hot carpet was alive with perfectly polished famous faces – not to mention some equally fabulous frocks to match.
One of those catching style-savvy eyes was a certain Blake Lively, who wowed crowds and fellow onlookers alike with her head-to-toe outfit that came, literally, straight off Lanvin's SS11 runway. A touch of the green eyed monster is certainly come over us MFL girls, but we wouldn't expect anything less from this international trend-setter.
The Gossip Girl star looked stunning in her taupe evening gown, complete with revealing thigh splits and fan-crimped pleats, and though we're unsure about the insect-inspired dog collar, the tan leather harness gives the outfit an unconventional twist – not to mention complements those LA sun-loving sandals.
Bravo, Blake!