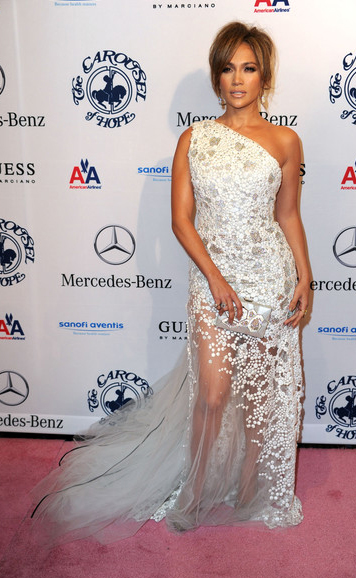 The Latino beauty that is Jennifer Lopez has always been adored by fans the world over – everyone loves her, and what with those bootylicious curves, who can blame them.
Wearing a simply stunning white Georges Chakra dress to the 32nd Anniversary Carousel of Hope Gala on Saturday, the bronzed beauty oozed effortless elegance at the Beverley Hilton Hotel. The sequinned asymmetrical gown highlighted her most famous of curves, whilst creating an ultra-feminine silhouette.
The snow-white frock complemented her golden tan perfectly, without making her look trashy, but although her up 'do and flawless smoky makeup really pulled the overall look together, we have to say the oversized netted fishtail sort of spoiled the outfit for us.
But, putting the wedding-inspired trail behind us, we love this glam creation in all its intricate glory.