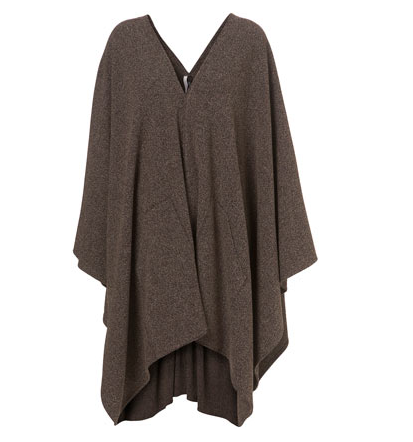 If like us you've eaten one too many mince pies over the festive season and the extra pounds around your waist are beginning to show then fear not, as this brown tweedy poncho by Topshop Boutique is guaranteed to hide a multitude of silhouette sins this post-Christmas period.
Until our New Year's fitness resolutions finally begin to take action – and let's face it, who knows when that will be – you can always rely on your easy autumn layers to help you on your way, especially when it comes to a flattering waterfall-draped poncho with a deep v neck and oversized pockets… not a figure-hugging attribute in sight!
So what more could you ask for? Well, there's probably lot's of things, actually, but this Topshop Boutique poncho is a pretty great place to start, non?
Topshop Brown Tweedy Poncho by Boutique, £120, available at Topshop. BUY NOW!