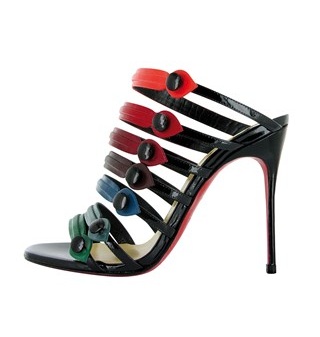 Not content with her already immense global stamp on the fashion scene, Gossip Girl actress Blake Lively has only gone and got a Christian Louboutin shoe named after her – talk about stamping her style status.
Appropriately named The Blake, the black stiletto features multi-coloured straps with eye-popping button fastenings to match, and in true Louboutin style, the shoe is elegant, refined and down right gorgeous.
"I went to [Louboutin's] atelier and I was walking around, like every shoe here is so beautiful and I saw this one pair and I said: 'I've never seen anything like it,'" says Blake. "He said: 'Do you love it?' I said: 'I want to sleep with it under my pillow every night' and he said: 'We're naming it the Blake then.' It was insane. It's like my greatest accomplishment."
According to Vogue UK, Blake also revealed that after walking around the label's atelier, Louboutin gave her a guided tour around Paris, where she consequently went on to meet Vogue editor in chief Anna Wintour, who introduced her to Karl Lagerfeld, who then cast her as the face of the new Chanel Mademoiselle bags. All in a day's work, naturally, if you're name's Blake Lively.
Available in the US and UK in March, the Blake Louboutin will retail at £635 – better start saving now, we reckon.