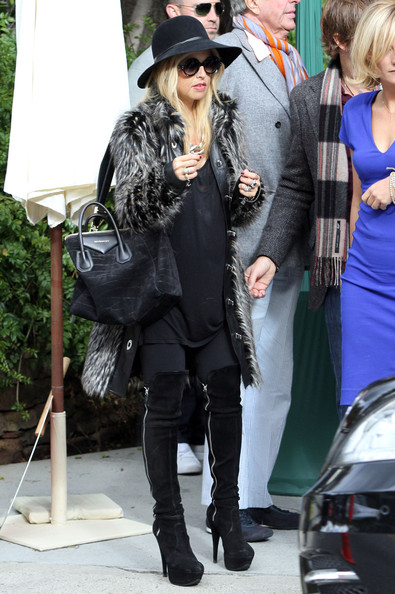 Only celeb stylist Rachel Zoe would consider five inch thigh-high boots appropriate maternity wear but gosh, doesn't she do it well? Attending a Pre-Oscars party in LA last weekend, the mum-to-be wore head-to-toe black.  
Since LA is experiencing some of it's coldest days since the 1940s at the moment (no, we're not in the least bit smug!), Rachel wrapped up in a huge shaggy fur coat.
The outfit underneath was very simple – skinny jeans and a black tunic – but it's her uber chic accessorising that takes the look from drab to directional. Adding her trademark oversized glasses and a bang on trend Seventies floppy hat, Zoe's outfit was a far cry from the average Mothercare mum attire.
What do you think of Rachel Zoe's look? Is she a slummy or yummy Mummy?
[poll id="46″]