So spring has officially sprung, and we're not going to lie, we're struggling to contain our excitement.
The sun may be beaming though our windows and blinding our screens, but frankly, we don't care because we didn't have to wear a coat today, and after what feels like a year of winter, that's something to be totally smug about.
Naturally, we've been scouring the rails to find the perfect partners to accompany the sun and our good mood style, and we've found five fab spring bags that you won't be able to live without this season.
From cool classics to statement colour splashes, we'll be bringing you an edited selection of our favourite bags for spring each day this week to make sure your arm's never lacking candy. Today's favourite? Stella McCartney, spotlighting this season's trend for flora and fauna.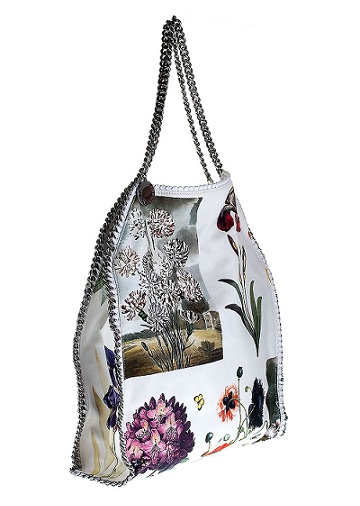 We've never quite got over Stella McCartney's Falabella tote since its launch over a year ago, and the luxury label's large floral version for SS11 is doing nothing to quash our obsession.
Featuring a multi botanical print strewn across crisp white cotton, the Falabella's picture-prettiness is counterbalanced by an exaggerated chain trim for the ultimate in feminine meets fierce. And if the brightly-coloured blossoms aren't enough to put a smile on your face this season, let the eco linen soothe your conscience (it is climate week, after all).
Stella McCartney large botanical Falabella bag, £919, available at farfetch.com. BUY NOW!