A special breed of 'superbag' is emerging. Boxy, dominant creations, usually manufactured at the expense of an exotic animal facing the guillotine seem to be regular residents on the arms of a growing number of influential (read: super-rich) beings. Handbags, to some extent can be classed as 'tagalongs' to a killer outfit; something to act as the stopgap and make your hands look busy while your outfit claims its rightful limelight. But the superbag is quite the antithesis to this toned down theory.
Unless you possess the sartorial iciness of Victoria Beckham and insist on ALWAYS dressing for the occasion, the superbag demands a more luxe-meets-lounge affair. And so was confirmed by one half of the Olsen set. Ashley Olsen was spotted with the priciest offering from her first handbag line for their label, The Row – a $39,000 croc backpack- looking relaxed in jeans and an oversized shirt.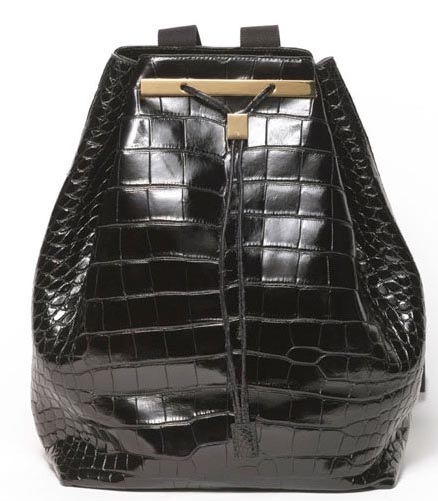 Tapping in to the high-end accessories market, the swamp coloured 'back candy' comes complete with gold hardware at the toggle, and being the costliest item in the debut handbag line – which was unveiled at Barney's in New York last week – its cheapest version cashes in at a skimpier and far more acceptable $4,700!
You may have come to tire of our recent affinity with ridiculously expensive handbags, and of course their occasional thrashing; but when a 90's accessory makes a comeback, that too with a price tag enough to buy two mid-sized cars in the UK, it's only fair to cough up a few handbag concerns.
Now we're certainly fans of the Olsen's label and fashion being cyclical, but we're not convinced or excited enough to trade in our cost effective vintage backpacks in order to sling an excruciatingly costly reptile over our shoulders. We'll leave it to the A-Listers to part with the near £23,000 sum and satiate their reptile accessory needs.
Although Simon Doonan, Barneys' creative ambassador-at-large believes the reincarnation of the backpack is the next big thing because we need to 'look fabulous and be a lifestyle brand and have a drink and be Twittering at the same time so you need hands free', we say this: We've pretty much mastered the art of balancing a Blackberry complete with simultaneous Tweeting in one hand and a heady passion fruit caipirinha (or two) in the other, all with the added extra of looking super slick minus a departed croc hitchhiking on our back.