Last Updated on 9th September 2011
This is a guest post by Lois Mills, one of our (frankly brilliant) competition winners. In her first-rate role as fashion reporter, Lois has been hitting London's Oxford Street every day this week to sample the best of High Street Fashion Week and all the fun it's offered. Find out what she got up to when she visited Selfridges' vlogging booth and hunted down the biggest bargains…
High Street Fashion Week should definitely be changed to High Street Fashion Month – with all the crazy and un-missable fashion moments going on, it's no wonder I sacrificed mealtimes to get more involved!
Having had a briefing on Monday about what was in store over the five days, I was set and raring to get onto that high street! After being unable to get myself available for Tuesday's events, I was overly enthusiastic about Wednesday, with a tip-off about a 'vlogging' booth that was popping up in Selfridges.
The cute yellow-striped box looked like it should be filled with sweets rather than a recording opportunity, but the giveaway signs of girls clutching their discounted purchases led me think to otherwise. Having not been on the street too long, I sadly had no steals to show off on camera, but that didn't stop me talking to myself about a fantastic Warehouse studded dress I'd walked past and my plans for the rest of the week.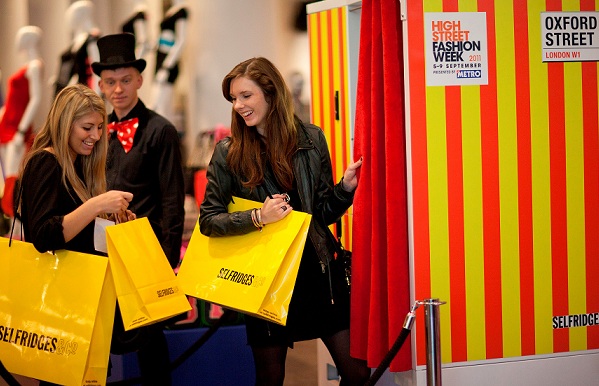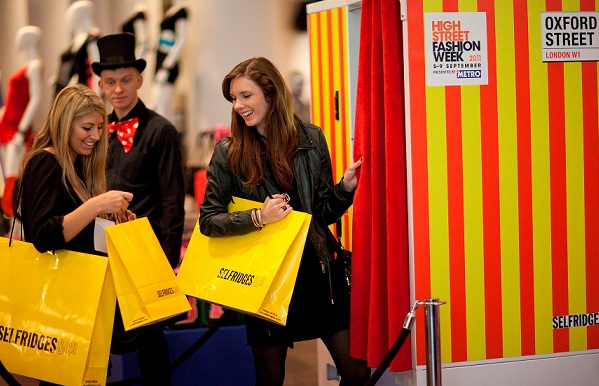 Oxford Street has never seen so many happy faces; and had I not have been aware of all the amazing discounts and events taking place throughout the stores, the huge '30% off' sign outside BHS certainly confirmed my suspicions. Now, though I would not normally see myself as a your typical BHS shopper, I wondered around anyway for a glimpse of some bargains; and for those of you who are equally as sceptical, the store also supply brands such as Dorothy Perkins, who were also gloating in their '20% off' glory!
And discounts weren't the only exciting thing going on this week! Hours flew by, and before I knew it, Fashion's Night Out was over and Friday had arrived (the final day of fashion-fuelled fun!).
After getting over my free-drink-encouraged headache, it was time to hit the city. John Lewis is known for its fashionable brands and today was no exception, with jewellery designer extraordinaire Fiona Paxton arriving at the for a lunchtime talk about her latest 'White Label' collection (which, by the way, John Lewis is now selling, so get down there!).
The collection is beautiful, with a lot of inspiration from the 1920s; pieces which, even standing alone, make a huge fashion statement. Fiona also looked lovely; smart yet effortlessly glamorous – what a woman!
Although I had a train to catch, I couldn't help but check out Blue Inc before I wrapped up. I'd read that they had an in-store DJ, with (more!) free drinks and goodie bags, and although I couldn't stay for long, a little dance to some urban-influenced beats whilst glancing over at the new autumn/winter collection was the perfect end to a perfect week.
[nggallery id=74]