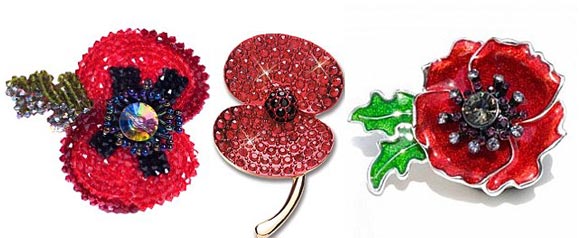 The Poppy first revealed its new sparkly make-over last year during both the X Factor and Strictly Come Dancing, where every judge and contestant alike wore one of their glitzy accessories to show their support for the cause while keeping in with the fab theme of the show. This year, however, the poppies have got even sparklier and have thus sold out in record time! 
"Last year Strictly and X Factor got tremendous exposure," said Royal British Legion spokesman Robert Lee. "This year it is no longer us going to celebs. They are coming to us and asking to have them."
The judges and contestants of the two Saturday night reality shows wore their poppies with pride, with the Buckley and Kleshna ones proving popular due to the Swarovski crystals being used top jazz up the designs. Over £40million  has currently been raised, while most of the new range of poppies is currently sold out on the Royal British Legion website. A £15 crystal-encrusted poppy sold out on shopping channel QVC in record time – raising £100,000 for the cause that helps and honours war veterans.