Fashion, much like the city it's currently creating a next season buzz in, never sleeps, and so it was on to day 2 of London Fashion Week.
It was a super-busy day for us, zapping around what felt like the whole of London (in heels, too!), but it was the summer inspo for next season that kept us going. Oh, and tons of caffeine!
Here are the show highlights from day 2 of London Fashion Week…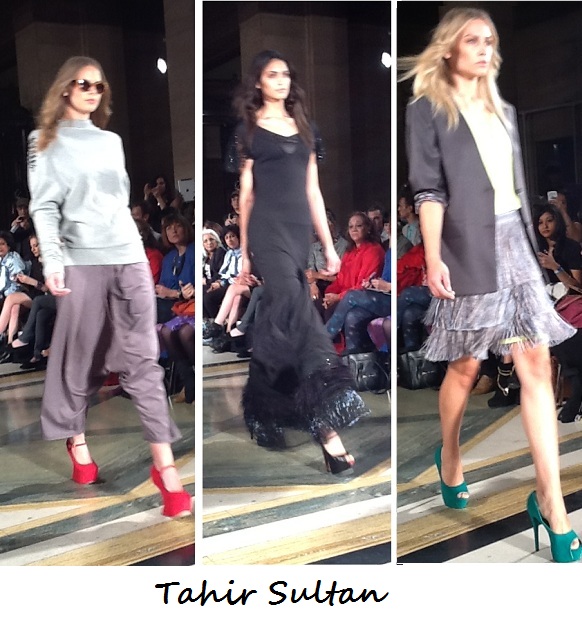 Who:Tahir Sultan
What: Marrying glamour with a everyday aesthetic, for SS'13, designer Tahir Sultan embellished beautifully fluid suits with studs, as to form a spine down the wearers back. Soft knits embellished with chain detailing; zingy pink and lime particularly caught our eye, paired with soft grey and charcoal hued structured blazers. Much emphasis was given to dressing below the waist, with colour-pop harem pants, Forties-inspired wide-leg trouser, and a show-stopping fringed skirt, paired with a blazer and emerald green heels, added after-hours drama to daytime dressing.
Highlight: A black, low-tiered evening gown with feather and beaded fringing detail.
To summarise: A collection "dedicated to the secret few who know that nothing is more fashionable than just being yourself" certainly justified the underlying ease and freedom that shone through the glamorous silhouettes.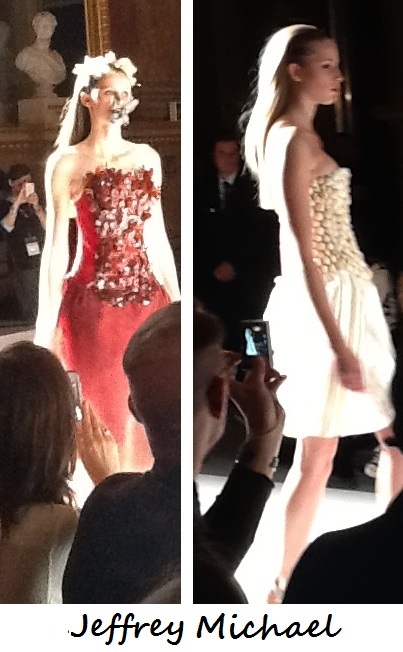 Who: Jeffrey Michael
What: The collection titled "From the Water" looked to "a woman emerging from the waves and seafoam at midnight" took a fun-injected approach to the aquatic theme evident in the spring/summer 2012 collections. A colour palette of bubblegum pink, purple and ocean blue came with 3D fish-gill like detailing on dress corsets. Jeffrey Michael's signature triangle print was fashioned to resemble scales, splashed across cropped halter necks and strapless bodies; a stunning corset embellished entirely with sea shells left us speechless, and flippy pleated skirts completed the look.
Highlight: Faux butterfly embellished dress in an oxidised red hue, complete with a large model butterfly held skilfully between the model's lips.
To summarise: An experimental yet wearable summer collection, particularly for the demi couture lover.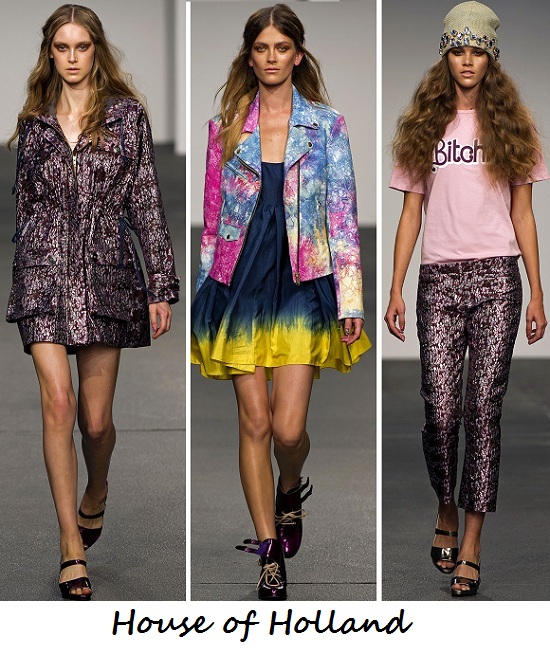 Who:House of Holland
What: Inspired by "grunge, glamour and glory…The 90s – fashions forgotten decade", Henry Holland's fashionable take on the nineties had us impatiently counting the days down till next summer! Presenting a palette of burgundy, chartreuse and gunmetal; the House of Holland SS'13 girl has developed "an attitude problem" – evident in the unconventional floral jacquard fabric and crystal embellishments witnessed on the humble-but-street beanie. A moody-yet-skippy palette of metallic floral jacquard, oversized shadow checks, shibori leather and embellished tie dye silks made for a fun, rather than historically accurate take on the era which holds for Henry many sweet fashion memories.
Highlight: A metallic floral jacquard parka was an unexpected take on a classic.
To summarise: A tongue-in-cheek take on nineties grunge style that is defined more by the wearer than the era.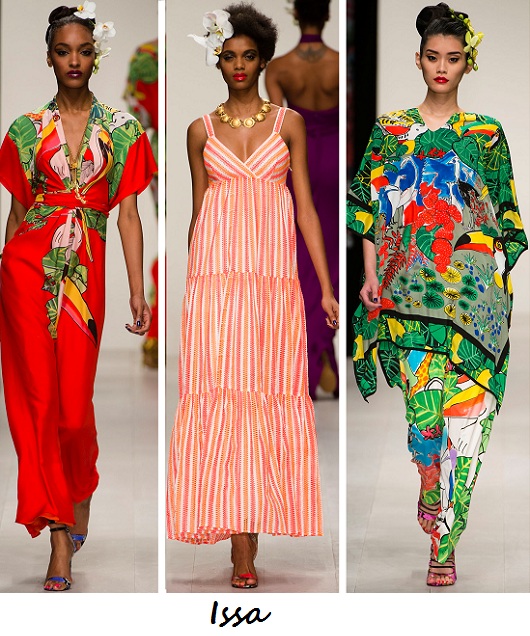 Who: Issa
What: A riot of colour and explosion of Garden of Eden prints on lust-worthy, super-swishy maxi dresses, tiered smocks and caftans, garnished with oversized and extended Hawaiian princess style orchid bloom hair adornments and smacking hues of red, pink and purple on lips. You can't get more tropical than this from Rio de Janeiro-born designer Daniella Helayel.
Highlight: The red, green and yellow toucan print maxi dress worn by model du jour, Jourdan Dunn
To summarise: A perfect collection for the jet-setters who love nothing better than tanning by the pool in St. Tropez in their floral print finery.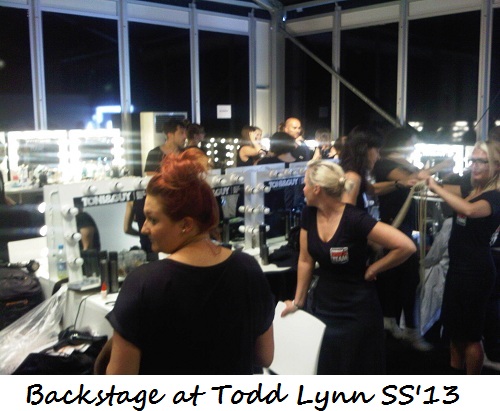 Who: Backstage at Todd Lynn, SS'13
What: We were lucky enough to get the low down backstage at Todd Lynn, hours before the show started! Speaking on his inspiration for SS'13, Todd Lynn told us it all began with the thought that " through all good efforts, quite often comes corruption", as he looked into the "heart of darkness" and tried to reflect the current position of society in his designs.
Citing photographer Peter Beard, renowned for his passion of African photography, as a "great source of inspiration", the SS'13 Todd Lynn girl is a socialite on a safari; lost in the jungle for days, and although dishevelled and now dirty, she still retains a innate glow.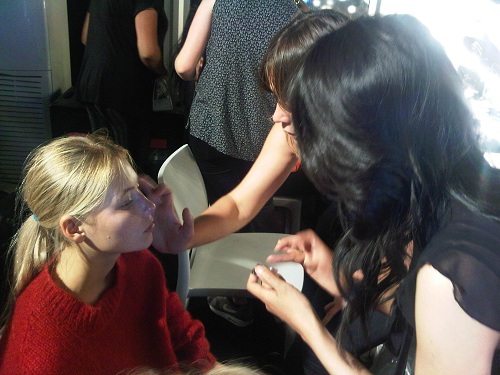 Touching on beauty backstage, makeup artist Sharon Dowsett told us the look for this season was "sunblushed; a pinky-gold gleam achieved using essentials such as concealer, BB cream and high-sheen colour on the eyes."
Chief hair stylist, Cos Sakkas took to the models' hair with super-long human hair extensions to create 22 inch plaits. Hair was prepped with volume mousse and blow dried, before being arranged into a low ponytail with a deep-set side parting, styled into a tonal tapering plait and dishevelled at the crown using dry shampoo for an unwashed, matte effect.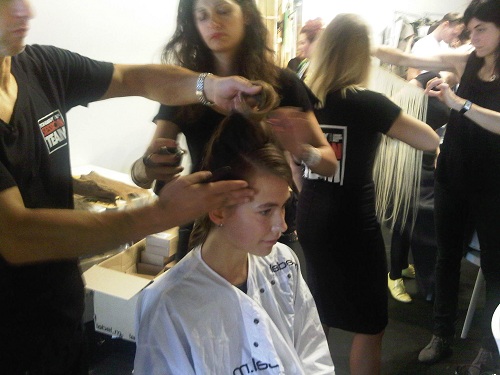 Highlight: Seeing the rows of Christian Louboutin donated boxes lined up under matching outfits, and imaging our summer 2013 wardrobe as we lapped up the collection backstage: a delicious palette of jungle greens flecked with red and grey; golden hues and soft silhouettes and plentiful draping – it was certainly safari-bound socialite-appropriate dressing.