Last Updated on 17th September 2012
As we told you a few months ago, eBay has teamed up with the British Fashion Council for Born to Shop #bidboutique, the first ever online designer auction which raises money for the amazing charity Save the Children.
And in case you hadn't worked out from the pics above, the wonderful British model and Save the Children ambassador Erin O'Connor is indeed the face of the campaign. (And what a lovely face it is… look how stunning she looks as she models some of the pieces you can snap up in the auction!)
"The Born to Shop #bidboutique online auction is part of our No Child Born to Die campaign to stop the needless deaths of more than 7.6 million children every year," said Rosie Shannon, a spokesperson for Save the Children. "With the money raised from the auction, we will be able to deliver life saving aid to children in some of the world's poorest countries."
A host of top designers including Alexander McQueen, David Koma, Peter Pilotto, Henry Holland, Holly Fulton, Kurt Geiger and Mary Katrantzou to name but a few have donated some pieces for the auction – and you can check out every single item that's going under the metaphorical hammer right here.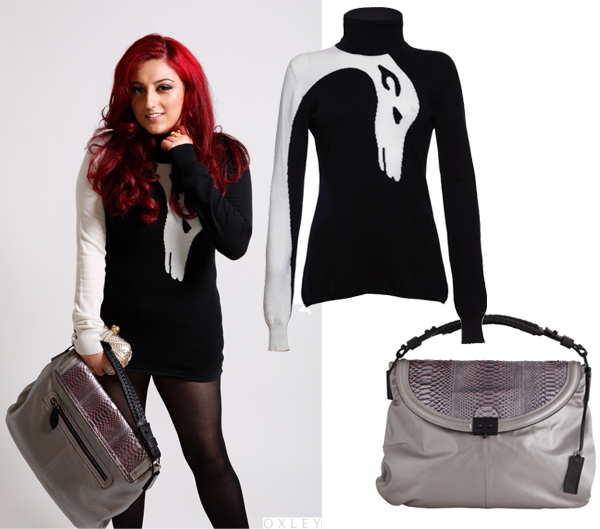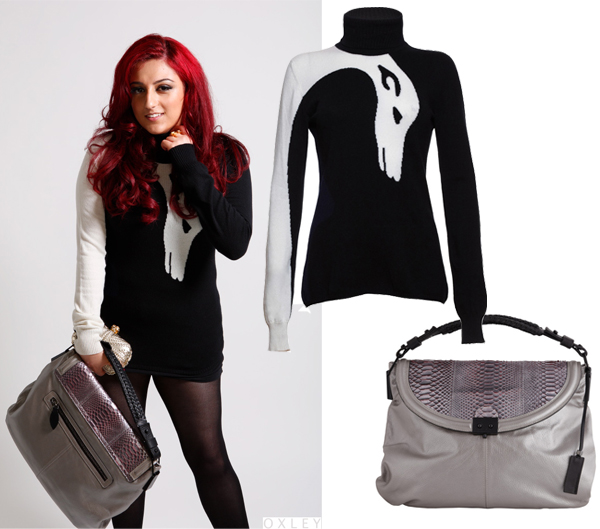 When I was asked to get in on the action and check out some of the pieces up for auction I jumped at the chance… even if it meant getting in front of the camera and "modelling" (I use the term loosely) them myself. I've said it many times before and will continue to say it…  we do love it when fashion and charity come together! In the pic above, I'm wearing a David Koma jumper dress, and carrying an Alexander McQueen clutch, as well as a Pauric Sweeney bag! 
I wasn't the only one who got the privilege of checking out the auction items first hand though, as I was joined by the lovely Emily Johnston of Fashion Foie Gras and Ella Gregory of Coco's Tea Party. Make sure you head to their blogs and check out their pictures too, as well as some of their favourite pieces from the auction.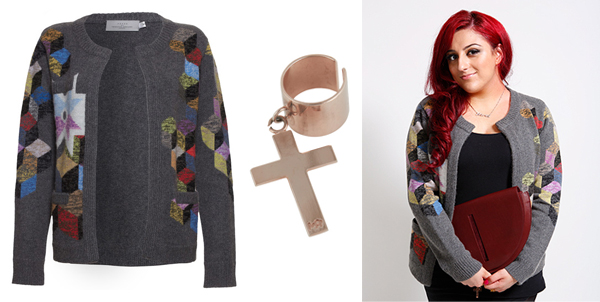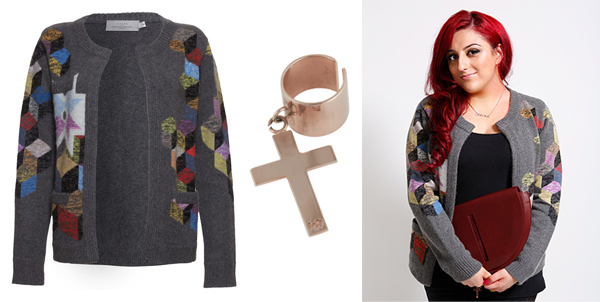 Above, I'm wearing a Preen cardi, Maria Francesca Pepe cross ring and holding a DAKS bag. 
Don't forget, the auction ends on September 23rd  so get bidding! If you want to get a sneak peek at some of the auction pieces and see them with your own eyes (maybe even touch them?!) then you can check them out at the Vodafone London Fashion Weekend between 20 and 23 September – where an exclusive pop-up Born to Shop Bid Boutique installation will showcase the best picks.
Happy bidding!