Double denim is a look derided by many fashionistas and considered a style faux pas. Denim jackets and shirts have seen a comeback in recent years, and denim hotpants jeans will never go out of fashion. High street shops and online stores continue to have extensive denim sections and jeans sections, such as the ride range of designer denimwear available at Avenue 32.
However, wearing more than one denim piece in an outfit is usually seen as a distinct no-no – is this still the case? Is double denim ever acceptable? And if so, how can it be worn so as to avoid that not so hot homage-to-the-Eighties look?
Firstly, know how not to work the double denim look. Take for example, Britney and Justin's his and hers double denim sported here.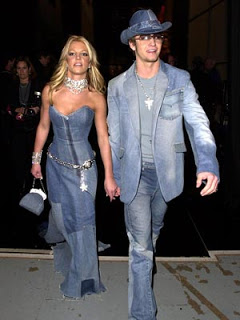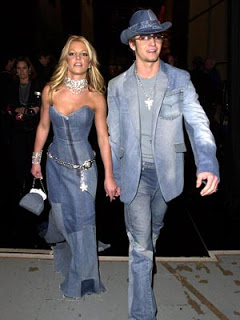 The main issue here is that the denim tones are too matchy. Britney's bag and dress, Justin's washed out jeans, jacket and hat. Instead, to pull off the double denim look with style, mix pieces of different tones. A pair of well fitting dark skinny jeans can provide a great contrast to a paler denim shirt. Actress and model Ashley Greene demonstrates how this look can be casual and laid back, wearing simple flats and accessorising with a tan bag.
If you are still unsure about pairing two blue hued denim items together, why not try coloured denim with a traditional blue? Skinny jeans in pastel colours reappeared a couple of years ago and are still going strong this season. Pale jeans are not just an option for summer either, as a pair of white jeans can look elegant in chillier winter months. Make like Whitney Port and mix a loose baggy shirt with lighter jeans. Again, she keeps the look casual by pairing the outfit with low heeled black clogs.
The double denim look was a key feature of the eighties and nineties, and rather than try and shirk this completely, the more adventurous may wish to try channeling the retro style. Vintage pieces can look great when worn as part of a laid back outfit. Rather than going OTT will full length jeans and shirt, instead team denim hots with a ¾ sleeved shirt, or turned-up sleeves. Whitney Port again demonstrates her first class fashion credentials in this buttoned denim shirt and daring hot pants. This look can also be worn in the winter by wearing opaque black tights – perfect for those less than keen on flashing the flesh! Up the retro vibe with Doc Martin boots, or go dressier with chunky heeled ankle boots.
With the right styling and consideration, double denim is a look which can be re-worked for the 21st century – just avoid those nineties fashion Britney-esque errors!