I have unpredictable skin. There, I said it. It likes to breakout (not in a song and dance kind of way) and leaves me feeling deflated after all my skincare efforts. So, it's normal for me to spend an unhealthy portion of my 'makeup time' in front of the mirror trying to conceal, rather than enhance my 'beauty'.
When I came across the Confessions of a Concealaholic kit by Benefit – a collection of the beauty brand's cult classics – I felt light-headed from all the fresh-faced promises it made, not to mention the cute, buy-me-now packaging.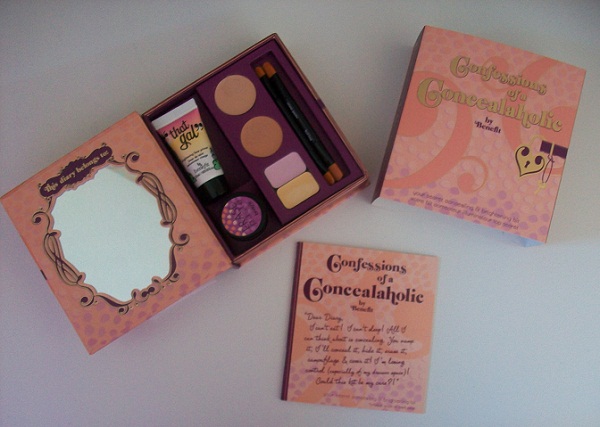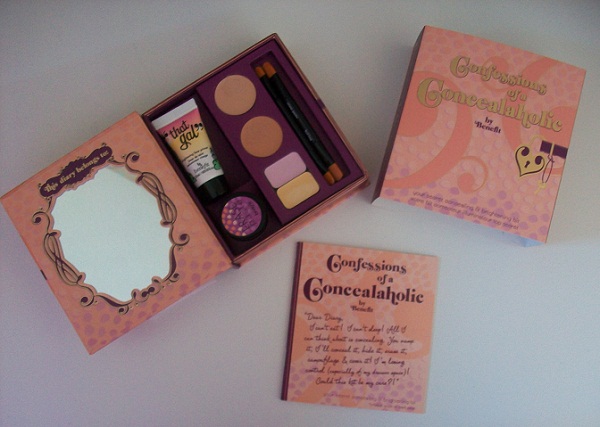 Printed to look like a secret diary you probably owned aged 10, inside is a handy mirror and 5 different products: 4 palettes (2 boi-ing concealers, 1 lemon aid and 1 eye bright), one tube (brightening primer), one pot (Erase Paste) and 2 double-edged brushes assigned to each palette, along with a protective transparent film to keep the exposed palettes fresh.
The kit also comes with an illustrated guide that shows you how to effectively use each product, quirkily written in the brand's signature, humorous beauty product junkie voice. At the beginning of the guide is a quick quiz to determine whether you're a Concealaholic, and you guessed it, I am.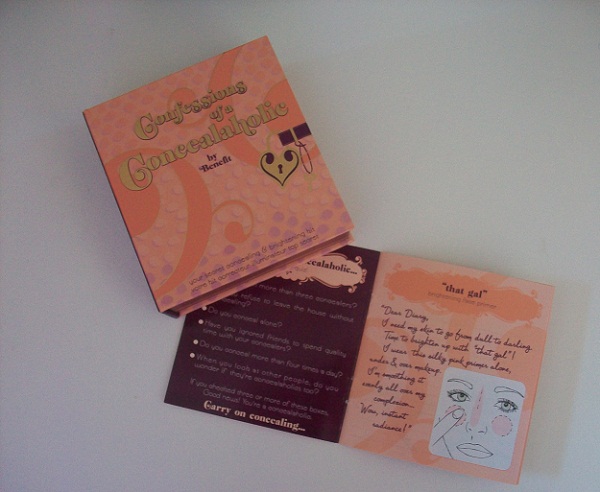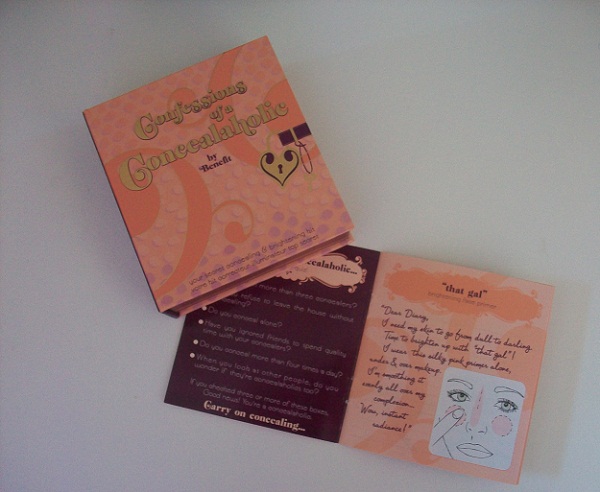 With the help of the guide I worked my way through the kit, one product at a time, on a freshly cleansed and moisturised, makeup-free face and here's what I thought:
"that gal" Mini Brightening Primer
I couldn't fault this dinky creation, with its slight raspberry scent and skin brightening pigments it really did it what is promised. I smoothed "that gal" all over my face and found that it helped with my often 'tired' look, almost 'awakening' my complexion. Only thing to remember when using brightening primers sans makeup, as I did, is to have a well-moisturised base, as dry patches are not du jour.
Brightening factor: 9/10
Product consistency: 9/10
Erase Paste
A brightening camouflage for face and eyes, I used this pot of concentrated creamy concealer in No.2 Medium, dotting it on the darkest area under my eyes using the designated brush. I do suffer from uneven skin tone, and found that when I applied the Erase Paste it didn't instantly look 'right' against my skin tone. A little blending with my finger helped the product settle into my skin better, but I didn't particularly like the heavily creamy consistency, as it felt a little sticky during blending.
Camouflage factor: 7/10
Product consistency: 5/10
boi-ing Industrial-strength Concealer in 01 (light) and 02 (medium)
This is a brilliant product at, well, concealing. I found that mixing the two (as the guide says) didn't really work for my skin tone. So, I tested out 01 first and found it too light in coverage, moving onto 02, which was perfect. I didn't use the brush as the guide instructed, instead dabbing it onto areas of discolouration and faint teen acne scars using my ring finger, gently patting to help it blend. It even worked wonders on a small, uncalled for zit my face was sporting! However, 3 hours after application I did notice my acne scars and discolouration begin to show through slightly, as I felt the concealer almost faded from my skin.
Concealing power: 9/10
Staying power: 6/10
lemon aid Colour Correcting Eyelid Primer
My least favourite product in the kit, I found lemon aid almost gave eyelids a bit of a whitewash – a look I wasn't too keen on. But this was after I followed the guide and applied it with a brush. A quick browse of the Benefit website helped change my mind, as the on-site instructions tell you to warm up the product using your fingertips before lightly patting onto eyelids and blending. Using this method took away the white lid syndrome previously endured, and I found the darker shade of my eyelids had toned down significantly. Although a great pick-me-up, I found lemon aid to crease and fade pretty quickly, leaving my eyelids feeling a little oily.
Colour correcting quality: 8/10
Staying power: 5/10
Product consistency: 5/10
eye bright Instant Eye Brightener (sold as an eye pencil)
This product really lifted my eyes, and almost opened them up. Although it can be applied to the inner and outer corners of the eyes, I went with the former, for its promised 'wide-awake' look. Brilliant for using on its own or over makeup, I would certainly consider investing in the full-sized eye bright pencil for use on the go.
Brightening qualities: 9/10
Product consistency: 9/10