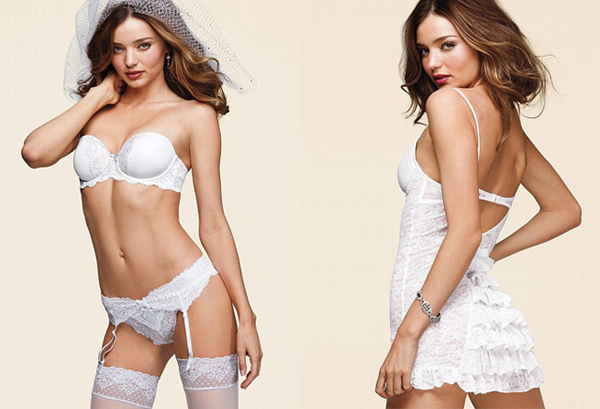 Last week we brought those gorgeous, affordable wedding dresses to your attention, but it appears we may have left something out… the wedding night outfit!
You don't really need to look further than Victoria's Secret when it comes to finding something seductive and sexy for your new husband, and Miranda Kerr does a good job of showcasing some of the finest pieces in the new bridal underwear range.
Obviously we feel they should come with a little disclaimer mentioning how Miranda is practically immortal and not many of us will look quite as good in the pieces as she does, but you can certainly get the gist of them.
The collection features cute little separates, stockings, and suspenders, as well as racy nighties, and even a very cool "bride" hoodie with matching knickers. There's also a really cute turquoise number in the collection which is great if you want a break from the traditional white.
Click here if you want to feel really bad about yourself to check out more pics of Miranda modelling the pieces.