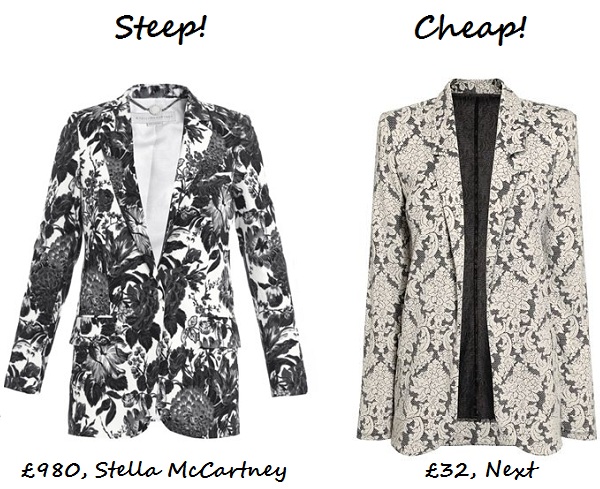 We love stylish, trend-merging options, and this week's Steep vs. Cheap does just that.
For spring, the formal jacket has as undergone a make-under if you like; to make it more appropriate for those casual days when you feel like throwing a statement jacket over your shoulders.
Monochrome and floral prints we're huge on the Spring 2013 catwalk, and we couldn't find a better manifestation of the two being beautifully merged than the tailored-to-perfection Stella McCartney Frazier flower-print blazer.
Cut to Stella's signature oversized, almost masculine fit, the Frazier blazer would look great paired with a clashing shirt, or worn over a simple tee and jeans. Although an item you'd definitely get wear out of over the years, the Frazier blazer will still set you back by £980. Painful, especially when it means cutting back on our constant stream of coffee and cupcakes.
But fear not! You can have your cake and eat it (pardon the pun) with a pocket friendly version of the Frazier blazer from Next. Yes, the high street haven where you're guaranteed to spot a runway-inspired piece at a fraction of the price! At only £32, we love this floral jacquard jacket as an easy-on-the eye (and pocket) alternative to its £980 big sister.
So, which one will you pick? Flying the flag high for the high street, or are you sticking with the high end version and taking the financial drought that follows in your stride?
Steep: Stella McCartney Frazier flower-print blazer, £980 available at Matches
Cheap: Cream floral jacquard jacket, £32, available at Next