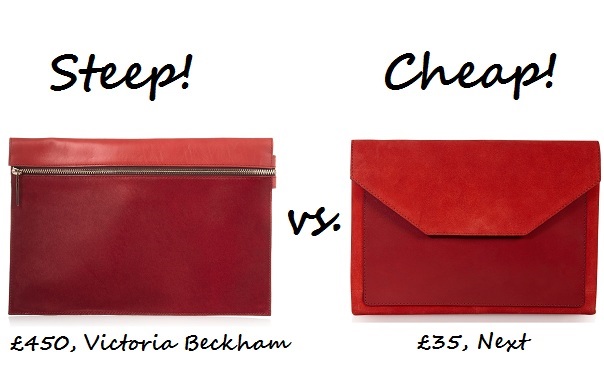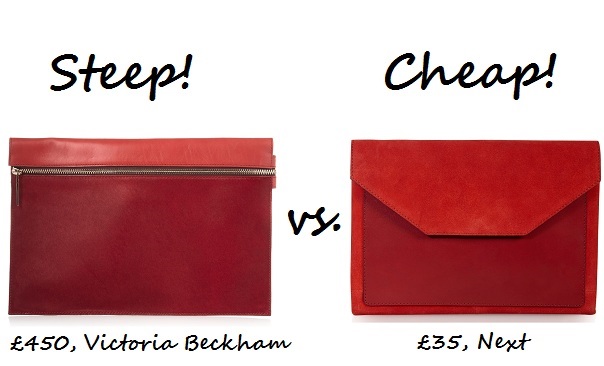 Looking for the perfect clutch in a punchy colour? Look no further, because we've tracked down a red hot (literally) option to suit both a generous, and a not so generous budget!
Large, envelope-style clutches are fast becoming the arm candy of choice for the ruling fashionistas of the world. Be it a dinner date or  business meeting, serious fashion mavens the likes of Victoria Beckham and the Olsen twins are often papped carrying a multi-purpose clutch; big enough to fit the essentials, but polished enough to make a sleek statement.
Coming in at the steep end this week is the super-slick matte-leather and calf hair clutch by Victoria Beckham. Famed for her impeccable style and discerning choice of accessories, this clutch is undoubtedly going to become a super-hit addition to your bag collection. The rich red hue, accented with gold hardware, is perfect for adding a glam touch to a smart-casual look. But cashing in at £450, expect some serious fashion fund depletion!
Still need a red clutch fix, though? Fear not, because we've tracked a similar option at high street haven Next for a fraction of the price! If you're feeling the pinch, why not click home the leather envelope clutch, which promises to be an equally stylish addition to your wardrobe as the VB clutch, but for a mere £35. A no-brainer!
Will you splash out or curb the credit card spree?
Steep: Victoria Beckham matte-leather and calf hair clutch, £450, available at Net-a-Porter.
Cheap: Leather envelope clutch bag, £35, available at Next.