Last Updated on 28th February 2013
[noskim]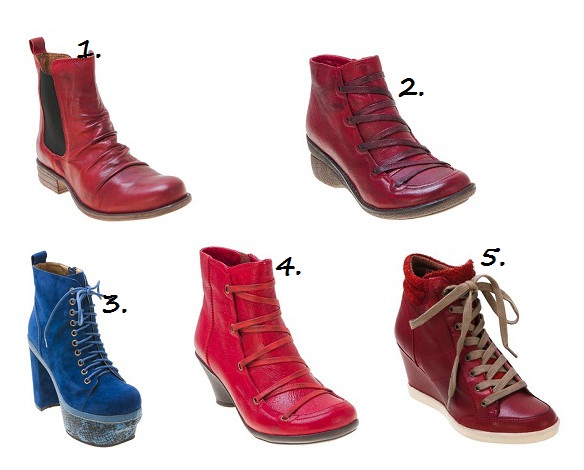 Want to strut about town in something as fierce as it is comfortable? Enter the trusty ankle boot!
A lot edgier than its ballet pump counterpart, the ankle boot is all you need to ease you into the spring/summer season. At least if you're staying in good old Blighty, anyway.
The good thing about our weather is that it's rarely "too hot" for an ankle boot, which means that you can invest in a pair (or five) today and get an entire season's wear out of them. More if you're lucky!
Take a look at five of our favourite ankle boots from Miz Mooz – one of our go-to places for totally trendy shoes!
1. Miz Mooz Women's Lissie Ankle Boot
Urban, edgy, stylish – these Miz Mooz boots are all you need to pull off that fierce fashion girl about town look. Plus they make a nice change from the conventional black – perfect for adding a pop of edgy colour into your outfit without going overtly feminine. Great to wear with skinny jeans!
2. Miz Mooz Women's OHara Ankle Boot
Akin to the Lissie ankle boot above, these are perfect for strutting your stuff and making a serious style statement while retaining the utmost comfort at the same time. These babies come in an array of different colours, but there's something about the red colour we can't seem to get enough of. (Tip: It's also one of the hottest shades to appear on the catwalks this Fashion Month – get in on the trend early!)
3. Miz Mooz Women's Limerick Platform Shoe
If the rest of the girls are insisting on high heels and you don't want to be dwarfed on your night out, look no further than these bad boys. Super-comfy and in the trendy shade of attention-grabbing cobalt blue, thee boots sell themselves without any encouragement from us!
4. Miz Mooz Women's Claudia Ankle Boot
This versatile boot can be dressed up or down, worn day and night and through all seasons. We love the heel on this boot too – high enough to add some femininity and help you nail that power strut, but low and chunky enough to still be totally comfortable and help you go about your day with speed and ease.
5. Miz Mooz Women's Angie Ankle Boot
This is the edgier girl's alternative to the wedge trainer that has been dominating the British high streets these past few months. Great to wear with a skirt or some shorts to elongate the legs and show the world that you're a woman with attitude.
[/noskim]