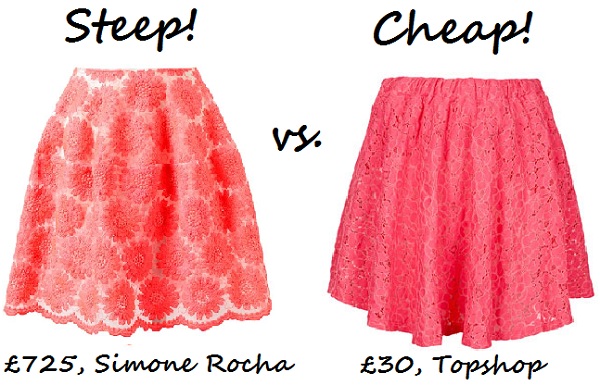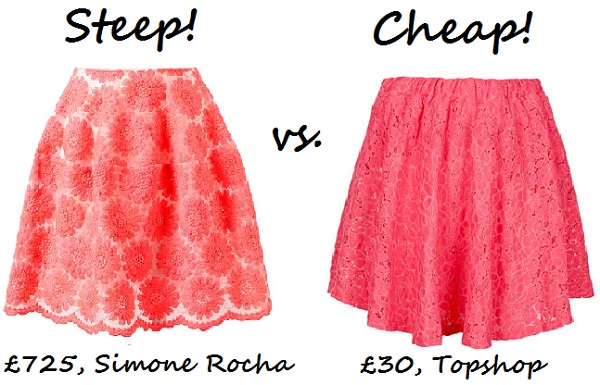 As summer draws closer, a pop of colour mixed in with a still-stuck-in-winter wardrobe wouldn't go amiss.
Considering you're probably sick of snapping up printed trousers, coloured denim, and fed up with wearing tights, we've picked out a nifty little bright number for this week's Steep vs. Cheap that'll certainly put you in the summer mood!
Feast your eyes on the colour-pop skirt; a must-have piece with great versatility for styling, and adding that all important shot of colour to life any outfit.
Sitting at either end of the spectrum, our bright options won't disappoint – depending on your budget, of course! First up, at the Steep end is a zingy neon silk-blend floral embroidered skirt by Simone Rocha. Ultra-feminine, we love the beautiful scalloped edge and delicate pattern, making this a certified stand-out wardrobe addition. But with an eye-watering price tag of £725, you'll need to start saving from now!
But if you don't have the patience of a (stylish) saint, then look to high street haven Topshop for a quick, pocket-friendly fix. Cashing in at a super-affordable £30, the lace skirt by Love is a hot contender for Simone Rocha's pricier version, and will look great paired with a basic black t-shirt and flat sandals for great summer style.
So, will you splurge or save?
Steep: Simone Rocha Floral Embroidered Silk-blend Skirt, £725, available at Browns
Cheap: Lace Skirt by Love, £30, available at Topshop