Last Updated on 15th April 2013
[noskim]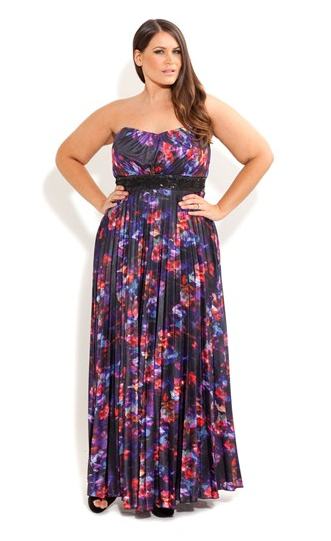 Erm, yes we have looked outside. We know the heavens have opened up and there's an abundance of rain pouring down London town. We know it, and more devastatingly, our new shoes and freshly blow-dried hair know it. Sob!
This is why we've decided to sort of tempt fate (and those pesky weathergods) by snapping up a cute floral summery piece from our favourite plus size fashion store – City Chic. After lots of browsing and um-ing and aah-ing, we decided that our hard-earned money is going on this pressed floral maxi dress; we heart the gorgeous flowery print, the sweetheart neckline, the self-tie sash back which cinches in the waist beautifully and the lightly padded bodice for starters. And we love the pleated skirt, as it will make us look taller and slimmer in an instant!
It's perfect to wear to the office on dress-down Fridays when the sun is out – just pair with a cute cropped blazer and some smart sandals and you're good to go. Alternatively, wear this beauty to a summer picnic with an edgy studded leather or faded denim jacket, or pile on the bangles and add a sparkly bolero and some sky-high heels for a slightly more formal occasion. Your best gal pal's spring wedding perhaps?
Basically, we're saying that this is a hard-working versatile maxi dress that will see you through the spring/summer season, as the mixing and matching opportunities are practically endless. Or if you're off on your jollies in the next few months, just whack it in your suitcase and wear it anywhere your heart desires: beach, cocktail bar, club, sight-seeing… the choice is yours!
[/noskim]