Last Updated on 19th October 2013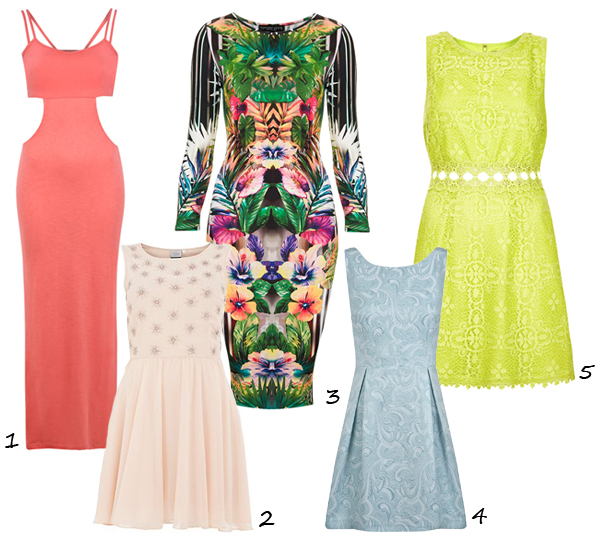 We all know that a lot of good things come in small packages – just go to Tiffany & Co for conclusive proof. The same can also be said for small and petite ladies, and we love how the British High Street is embracing the fact that we girls come in all different shapes, sizes and heights.
So, if you're a petite lady and are after a fun, flirty, sexy and stunning dress for the summer, you're in luck, because we've selected five of the most gorgeous dresses that cater to petite frames. And best of all, they're all under £50!
1. – Never be worried about sweeping the floor and getting your dress dirty with this maxi that was catered for pint sized fashionistas. Miss Selfridge petite pink cutout maxi dress, £28
2. – We love this elegant, ultra feminine dress that would be perfect for summer weddings, Christenings and cocktail parties alike. A party must-have! New Look petite pink star embellished dress, £29.99
3. – Fed up of bodycon dresses that sit at that oh-so-awkward knee length? Well this fabulous floral creation is perfect for hugging your body, accentuating your curves (yes, petite ladies have curves too!) in an expertly tailored fashion. You know, without the expensive tailor! Topshop petite botanical floral dress, £45
4. – No longer will you drown in an ill-fitting prom dress – this jacquard prom dress will flatter your small frame perfectly! Miss Selfridge petite jacquard prom dress, £45
5. – The key to this dress's sartorial success is the cut-out waist detailing, so it would be a shame for it to sit wrong on your body. Luckily, it's been made especially for petite girls, so the only thing you have to worry about is perfecting your summer tan and choosing your matching accessories! Topshop 60s lace panel shift dress, £46