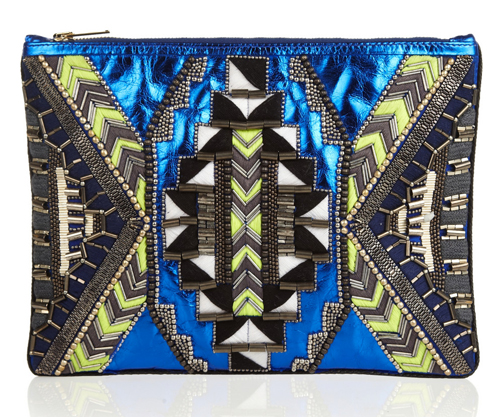 Wanna give them the old 'razzle-dazzle' this week? Your day is about to get a little bit more glittery as you are sure to be super amazed with this eye-catching, pattern-popping embellished metallic leather clutch by the king of prints, Matthew Williamson.
This astonishing artisanal clutch magnificently contrasts metallic bright-blue leather hues and striking shimmering beads that defiantly create the 'wow' factor, and would add sparkle and shine to any ordinary outfit.
The exquisite attention to detail is unreal and features fabulous shades of electric blues, greens and greys… and is adorned with a varied selection of embroidery and beads. The clutch consists of an array of different patterns that are mirrored throughout the desirable design. It's made from goat's leather, has an internal zipped pocket, is fully lined and also has a zip fastening at the top.
We'd say it's a fantastic feast for the eyes and one not to be missed this week! To highlight this seriously striking clutch to the max, style with a simple blue maxi dress and accessorise with a metallic necklace and a matching ring for the most electric evening ensemble. We love!
Matthew Williamson embellished metallic leather clutch, £1,250, NET-A-PORTER