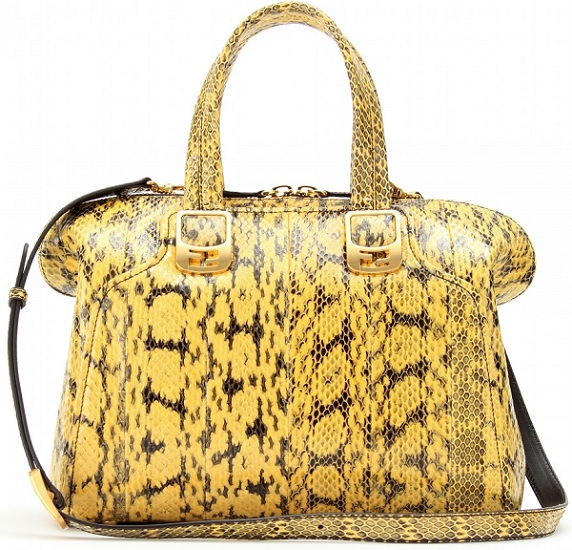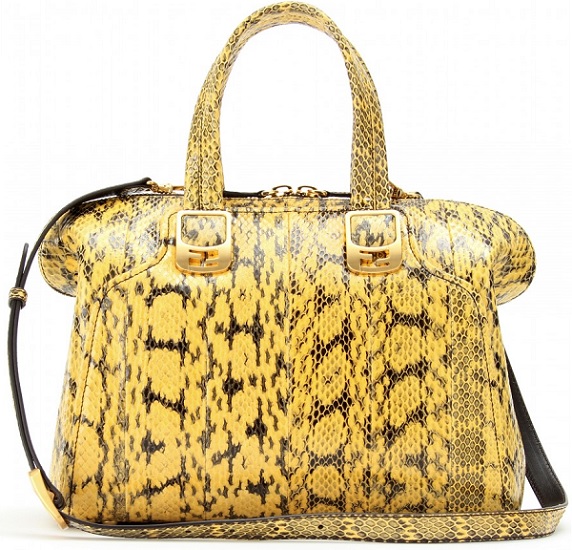 With autumn/winter 2013 already setting the tone for accessories that'll make the cut come September, snakeskin was a prominent trend. But we're not talking traditional (read: boring, colourless) snakeskin. No.
Updating the luxe skin for fall, every designer, from Marios Schwab to Gucci, were busy injecting rich hues of red, ochre and green into their designs, offering a new lease of life to upscale accessories, shoes and clothes alike.
And leading us into next season nicely is the Fendi chameleon snakeskin duffle tote; an extravagant take on the trusty tote, and one that's sure to turn heads, thanks to its vivid banana and black colourway and exquisite gold-toned logo hardware.
Tempted to add it to your handbag collection, and see in autumn/winter with a splash of vibrant colour? We've rationalised its purchasing potential, and summed up the reasons for and against snapping up this piece of Fendi finery.
Yay
Luxe factor: If you've a penchant for luxury skins, then this snake leather tote is the ideal option.
Statement investment: The chameleon tote is a twist on the classic Fendi duffle bag, so you'll be investing in an iconic style, updated effortlessly for the new season.
Practical: With a detachable belted crossbody strap for casually slinging over your shoulder, or top handles for when you want to up the chic ante, a 2-in-1 bag situation is always a winner!
Nay
Price: Yep, you guessed right. Sitting at the premium end of the accessory world, Fendi doesn't translate to financial stability, as such! Priced extravagantly at £2,340, you'll need solid friends for a (permanent) loan, or survive lunch-less at work for at least a year!
Colour: If fruity hues haven't been to your taste since Stella McCartney's citrus invasion for spring/summer 2011, then the chameleon tote's blaring banana tone won't be too popular, either.
Longevity: Applying the five-outfit rule, ask youself this: will this bag work with my wardrobe in long run? If you fear the one-wear-then-despair situation will creep up between you and your Fendi, put that credit card away!
Fendi chameleon snakeskin duffle tote, £2,340, available at Matches Fashion