Last Updated on 25th October 2021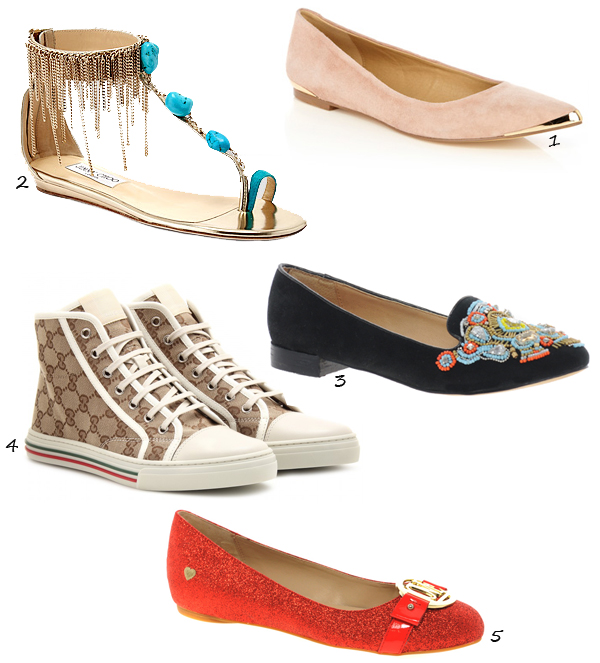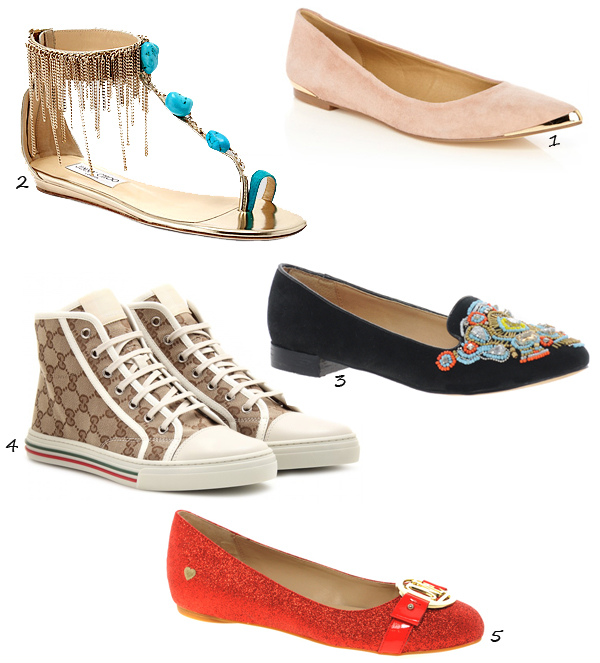 Ladies, don't fear flats – flats are our friends!
Not only are they super-comfy, and not only do they make running for the bus or train just that little bit easier, but they also look pretty gosh darn good with just about anything. They might not be our first choice for Glastonbury and other such muddy festivals, but when it comes to choosing a comfy pair of footwear for a brisk walk around London, a casual commute to the office, or a Cara Delevingne style tomboy chic look, they are there for us in their hundreds.
To save you time, we've looked through those aforementioned hundreds and chosen five of our current favourite flats:
1. – Kate Middleton knows how powerful and leg-elongating a good nude heel can be, but that doesn't mean a nude flat isn't powerful either. Au contraire, this pointed flat is as elegant as it is versatile – we challenge you to find a harder working flat! Oasis metal insert pointed flat shoes, £38
2. – Princess Jasmine, eat your heart out. These rich, Arabian nights inspired deluxe flats from the shoe gurus at Jimmy Choo will have everyone green with envy when they clap eyes on them. A true footwear investment that is worth every penny and will see you through the hot summer days in style. Jimmy Choo Bahar gold and turquoise sandals, £995 £697
3. – Want to exude that casual, effortless, air of fashion confidence that Alexa Chung does while incorporating your love of embellishment all in one go? Why don't you try these gorgeous black loafers on for size? ASOS moonbeam flat shoes, £45 £31.50
4. – If top models and pop singers can make sneakers look cool, and if the fashion big guns like Gucci actually make them, who are we to turn our noses up at them? These Gucci sneakers have it all – they're versatile, comfy, on-trend, and will show the whole world that you mean fashion business with their unmistakable Gucci print and colour combo! Gucci California logo sneakers, £306
5. – We've had a soft spot for glittering ruby red shoes ever since we saw a young Judy Garland rock them in The Wizard of Oz; and there's definitely something magical about this flatter pair from Love Moschino too. Timeless! Love Moschino glitter red flats, £165 £82.50