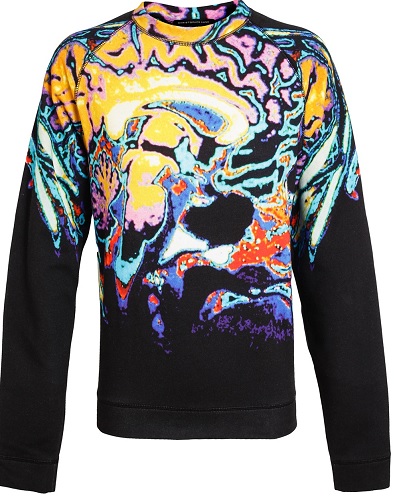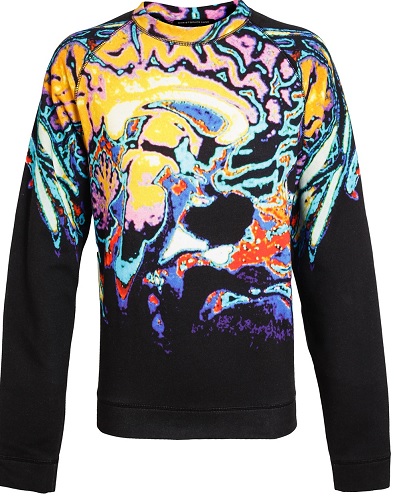 Pushing aside spotlight pieces such as the It bag and must-have shoe, sweatshirts have quietly been working up a sartorial storm.
Finding its way out of an Eighties gym setting into our wardrobes, and making us want to wear it with everything from a lace midi skirt to boyfriend jeans, the sweatshirt is a versatile, multi-wear investment you'll return to, season on season.
So when the demi-god of all things cool to roll off the British fashion runway, Christopher Kane, gave us a brain scan print sweatshirt to ogle (whilst lusting after everything in the autumn/winter 2013 collection), we couldn't help but put it under the Yay or Nay spotlight.
We wouldn't expect anything conventional from the rule-massacring Kane, but an MRI-inspired print to adorn an everyday staple is quite something! But before adding it to your statement top repertoire, check out the reasons we're saying yes (and no) to the brain scan print sweatshirt below.
Yay
Statement piece: Undoubtedly leading the way when it comes to statement sweatshirts, the brain scan sweat is perfect for breaking out of a fashion wallflower rut.
Versatile: The styling opportunities are endless; thanks to the new luxe status the humble sweatshirt has been afforded.
Colour: Brights on a black backdrop provide an easy canvas to style as you wish – the best way to slowly introduce bold pieces into your wardrobe.
 Nay
Trend-centric: Given it was one of the wow-inducing pieces for the fall 2013 collection, and had every fashion bod talking about it (guilty as charged), don't be surprised if, come fashion week, there's a little Brain Scan Tribe trotting around Somerset House!
Price: £275 may not sound like such a huge sum, but when you're forking it out on a trend-led piece that you'll probably tire of soon, your pocket will feel the pinch.
One-wear-then-despair: Yep, the brain scan sweatshirt is the perfect candidate for the dreaded 'one wear' situation – unless, of course, repeat wears don't concern you in seasons to come.
Christopher Kane Brain Scan Sweatshirt, £275, available at Farfetch